Kickstarter Launch: ScavBots Unveils Cutting-Edge Robotic Pool Cleaner for Ultimate Efficiency and Performance
Tech brand, ScavBots is pleased to introduce an innovative invention called ScavBots Robotic Pool Cleaner that can significantly facilitate swimming pool maintenance.
ScavBots, an offshoot of Hong Kong-based company, Kai Wu Innovation, collaborated with some of the most talented people in design and manufacture to develop the versatile ScavBots robotic pool cleaner. This pool cleaner functions with either corded or cordless options and accommodates different swimming pool configurations. Its lightweightness—6.5kg—is an accurate indication of that flexibility and, therefore, ensures suitability to users who have differently sized swimming pools.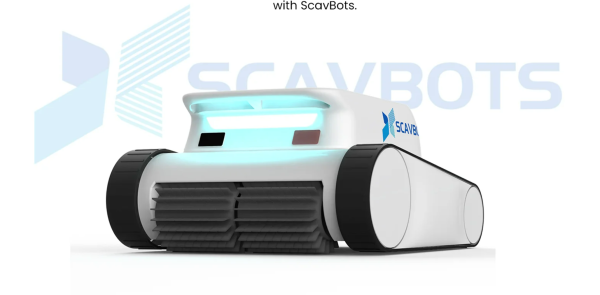 The ScavBots Robotic Pool Cleaner is multi-purpose and has a 1200pa suction strength and flow rate of 4800GPH to guarantee high performance and value for money. The new age pool cleaner comes with an intelligent application. It has a range of functions, including remote operation, selective zone cleansing, on-spot battery status updates, plus water analysis for maintaining quality.
The ScavBots Robotic Pool Cleaner comes with a powerful 8Ah battery that provides a long running time of about 6 hours per session. It is further supported by the pool cleaner's two-hour fast charging that reduces downtime, thereby increasing efficiency.
Speaking about the device and its features, an executive of ScavBots said: "Our pool cleaner has been designed to work effectively with different types of electrical systems, including a broad range of voltages (i.e., between 100 and 240 V) as well as an output current of 24 V, ensuring that you get exactly what you need. We design our cleaners to run at a rate of 0.2 m/s, so we achieve fast cleaning of swimming pool floors and walls for maximum customer satisfaction."
Continuing, the executive said that their pool cleaner covers as much as 900 m², and they are certain about no leftover dirt. "Moreover, we created this pool cleaner to work correctly on pools no greater than three meters deep."
Say goodbye to inconsistent pool cleaning. ScavBots' intelligent path planning ensures meticulous cleaning. Adaptable modes maintain a pristine pool effortlessly, with a 99% success rate on vertical walls.
The ScavBots Robotic Pool Cleaner is among an array of impressive products from the brand as ScavBots continues to develop state-of-the-art products for pool owners worldwide.
Media Contact
Company Name: Scavbots
Contact Person: Zhengmei Lai
Email: Send Email
Country: HongKong
Website: https://prelaunch.scavbots.com/