The Vicious Vic Announces Name Change to Vic Lucas, and a Brand-New Song
Sep 17, 2021 – Christian recording artist The Vicious Vic announced today that he is changing his stage name to Vic Lucas. The switch comes at a vital time in his career as the artist has been hot on the heels of record labels in Nashville.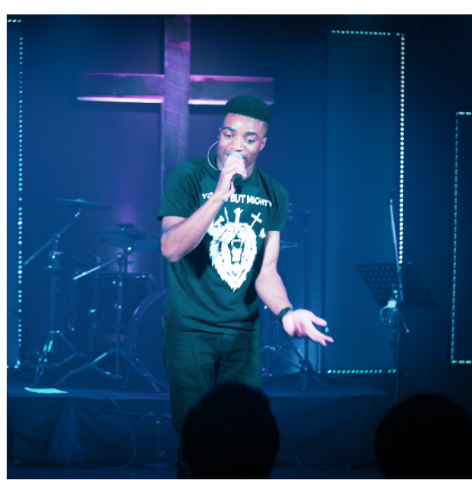 The Vicious Vic – now known as Vic Lucas – Performing at Indianola Mississippi in 2020
The Nigerian born and South African raised singer and rapper has steadily released music since his debut record "On My Knees" garnered online attention in 2017. Now, nearly a year after his record "Enough" hit the Billboard charts, he has taken a rather bold step by leaving his old stage name "The Vicious Vic" behind. The artist says, "There has always been a deeper meaning and connection between the name The Vicious Vic and I. It's a long story, so I'll spare you. Ask me another time. Funny enough, that perfectly explains my reasoning for changing it. Regardless of my connection to the name, unfortunately, not everyone will have the opportunity to hear the meaning behind it. So many people may hastily judge the name, or the music without ever really giving it a listen. Besides that, in this new space that I'm in, I think it's just wiser to be known as who I am, rather than an image people may have of me from my nickname. To put it plainly, I got sick of people saying, 'You're not vicious at all! Your name should be Super Nice Vic, not Vicious Vic'. Very funny."
All in all, Vic seems excited for this new season he is in. He plans to introduce his new name with a brand-new single called 'When the King Comes Back'. He explains, "For me, name or no name, I just love to keep the main thing as the main thing, and that can't ever change. The heart behind my music is still to point people towards the promise of our eternal healing. I pray this song makes every listener excited for the day our King finally comes back."
Starting October 1, make sure to get in touch with Vic on his new social media handles below!
Contact:
Instagram: _VicLucas
Facebook: Vic Lucas
TikTok: _VicLucas
Twitter: _VicLucas1
Media Contact
Company Name: Vic Lucas LLC
Contact Person: Victor Famodimu
Email: Send Email
Country: United States
Website: www.viclucas.com