Bringing Anatolian Gyro Restaurant to Sheepshead Bay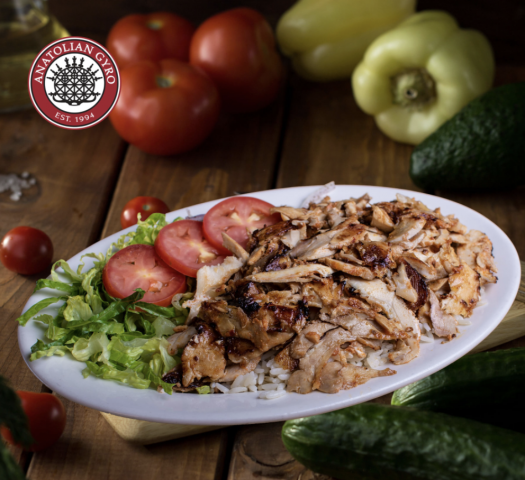 Anatolian Gyro, well known for its delicious gyro and kebabs, made from the finest ingredients, has been a staple Turkish influence in the heart of Sheepshead Bay. The restaurant stays true to its namesake as they offer a range of authentic dishes derived from the region of Anatolia, as they take pride in their representation of Turkish cuisine.
As they strive to serve their community even in the most uncertain of times, the restaurant has endured and overcome hardships due to the pandemic, proving their loyal customer base and success is permanent. Anatolian Gyro aims for customer satisfaction through quality food and service and understands the importance of serving the community.
The owner of Anatolian Gyro, Metin Turan, recounts his journey in the restaurant industry starting in 1989 when he first arrived in the United States. Turan humbly credits his "luck" as well as his work ethic and experience in the industry, alongside his team that has allowed him to establish Anatolian Gyro and further its success every day for 26 years, since 1994.
Tell me a little about Anatolian Gyro. What makes your restaurant unique?
Anatolian Gyro is one of the most popular gyro spots in Brooklyn. We're well known for our lamb gyro, shish kebabs, traditional salads, and soups. We have a vast indoor dining area, but we are also exceptionally well at coordinating take out, delivery and we offer catering services. Especially during the pandemic, customers have been relying on us through delivery services. Our restaurant is unique because we prepare everything in-house and make it to order. This includes preparing the meat, cooking, grilling, baking, everything is prepared on-premises. Customers thoroughly enjoy our homemade, oven-baked pide, a traditional Turkish bread. We bake almost 1000 pides daily!
What inspired you to establish Anatolian Gyro?
I have been in the foodservice industry for a while, even before I arrived in the United States. I worked in a restaurant for a while and then decided to establish my own place. At first, our restaurant was very small, but through our success, we were able to expand our location. We would expand even more but we ran out of space! It was not an easy journey, but our success is what keeps us going.
As a well-known Turkish restaurant in Brooklyn, how well do you think Anatolian Gyro represents Turkish cuisine?
I think we do a very good job because our gyro and kebabs are the most popular dishes on the menu and these staple Turkish dishes in the region of Anatolia, including our soups, salads, and appetizers as well. We prepare delicious dishes for our customers with the best ingredients and our in-house chefs oversee every dish and the process that goes into preparation.
In your opinion, what are the challenges of the restaurant industry?
The industry can truly be very challenging at times. I believe one of these challenges includes the time commitment you must invest in your establishment. On most days, I spend around 10-12 hours at the restaurant working and overseeing everything to make sure it is all perfect and not to mention, making sure we provide customers with satisfactory service. I also think experience in the food industry is very necessary to overcome some of the challenges presented. Having a background in professions such as being a chef, butcher, or even a manager, is greatly helpful in understanding the ups and downs of the industry.
Did the pandemic exasperate these challenges or introduce new ones?
Yes, unfortunately, the first two months of the pandemic, our profits were less than usual, and we were not serving as many customers as we used to. However, it started to eventually pick up again, and business has been doing well since. We have many loyal customers that have been supporting us since the beginning and would order for delivery which we excel at. So, customers who have ordered for take-out or delivery really supported our business greatly during a time of uncertainty.
Have the looser city regulations such as indoor dining improved your business and how?
Since last year we have focused on our delivery services, but we have not yet introduced indoor dining just yet. We believed that it would help our business more if we chose to wait until indoor dining restrictions are lifted completely, allowing 100% capacity. Indoor dining can be a challenge in terms of space and regulations, so we are grateful that our customers support us through our other services.
Due to economic constraints and the pandemic, has your restaurant faced any cost restraints or increases in prices?
Yes, there was about a 15-20% increase in prices for our ingredients. During the first 3-4 months of the pandemic, there was also a shortage of meat due to the lack of butchers at meat distributors, which we rely heavily on. However, thankfully everything seems to be back to normal now, so our service will not be disrupted further.
How does managing an establishment like such create a system to avoid conflict within the staff?
If problems do arise, what do they usually entail? How do you overcome such problems?
Our biggest goal is to make sure that everybody in our staff gets along with one another. When we first hire somebody, we ensure that there is a probationary period which we allow them to assimilate. If we are pleased with their work ethic, we welcome them to the team. If problems do arise among staff members, the management does step in to make sure the team dynamic stays intact. Management tries to help and support every staff member with anything they need.
Amongst the problems of our current world, success has taken on a new definition for some. How do you define success?
I believe you can be successful if you remain committed to your work. You also cannot be successful in a business like this by yourself. It is a team effort, and those who are working alongside you are part of the equation of success. It's true, I did establish Anatolian Gyro myself, but I am not solely responsible for running the restaurant, therefore I am not solely responsible for its success. It takes a village of chefs, butchers, staff members, cashiers and if you work well together as a team, success is easily achievable.
What plans do you have in mind for the foreseeable future of Anatolian Gyro?
We would love to expand our primary location in Sheepshead Bay, to make our space larger which would allow us to serve more customers. Once the world is back to normal, that is one of our main plans.
What advice would you give those starting out in the restaurant business in a place like New York?
Firstly, having a background as a chef or butcher would greatly be an asset to their success. Secondly, having enough finances and budgeting for the short-term future is very important when starting a business. And finally, hire staff members that are hardworking and have a strong work ethic. I would also advise the restaurant to be open to delivery and take out since a great number of our sales stems from those services. Not to mention, it is important that one of your main goals be to serve the community and focus on customer satisfaction rather than luxury. Customers are more likely to be loyal to restaurants like ours where our prices are low and include high food quality, generous portion sizes, and good service which is more likely to be successful compared to a high-end restaurant where customers will not be as satisfied based on that criteria.
Anatolian Gyro is open from 10 AM-11:30 PM every day; located at 2623 East 16th Street, Brooklyn, New York. Pick-up and delivery are available through their website, Grubhub, and Seamless.
Media Contact
Company Name: Anatolian Gyro
Contact Person: Metin Turan
Email: Send Email
Phone: 347-556-9424
Address:2623 East 16th Street
City: Brooklyn
State: NY
Country: United States
Website: www.mygyro.com