Meet Erika Mejía, the Honduran who conquered the United States
If we want to have two adjectives with which to describe Erika, those are persevering and dedicated, she is a young Honduran entrepreneur who came with a suitcase of illusions to fulfill her American Dream, today at 30 years of age, she has become the queen of the roses.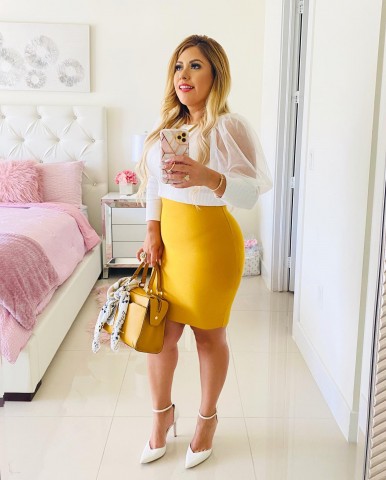 Looking for a better future, Mejía had to face the reality of a country that is not his own. He came to Miami trying to be an entrepreneur and to be someone in this life. It really touched him like any immigrant: She started from scratch, trying to get a job.
In her job search, luck never left her. She started working in an office for an employment agency. When they interviewed her, they really liked her profile and curriculum that she brought from Honduras. At 14, she was already a bilingual secretary, because she has always liked to study and be active. So they hired her.
Two years later, Mejía became unemployed. When she got out of there, she had to do whatever it took to pay the bills, rent and everything else.
When she finally found a job, Erika had no choice but to change heels for tennis. She got a job at a waitress restaurant, where she worked twelve hours a day. Boy was it difficult! There were days when she cried and wondered why me? It said: God, you know what your purpose is for my life. She had to learn the lesson and move on.
Despite all that, all this had its positive side. There she met her ex-husband, who years later became the father of her son.
However, the obstacles never disappeared. Along with her ex-husband, she cleaned offices to pay the rent. She also started working temporarily in a florist in the digital area, uploading photos of products for sale online. Back then, social networks hardly existed. You could say it was just Facebook.
Due to her good performance and effort, at the end of the project, the owner offered her a job to make flower arrangements. For Erika roses are a delight. But what she had to do was clean, pick up trash, take some super heavy buckets of water out of the fridge. And she wondered when it was going to be his turn to make arrangements. With patience Erika waited and finally had the opportunity to learn how to handle the roses.
From the age of seven, I saw his mother and stepfather working daily, directing employees. That is where his idea of ​​entrepreneurship comes from. Following the example of her family, after different jobs and motivated by her friends, Mejía decided to undertake. Together with her ex-husband, she created an employment agency. The first business did not work. It was just during the time of the recession. They had to give up, but with the idea of ​​continuing to fight. They spent all their savings. It was very sad.
After her first failure as an entrepreneur, Mejía decided to return to work as an employee in a flower shop, where she continued to train. Then she worked at an employment agency.
With much more experience, she launched into her own business again. Thanks to the motivations of friends, she told herself 'I have to try again.'"
For Mejía, the best was yet to come unexpectedly. She receives a box of preserved roses, and tell her, "they will last you years." They explained that they, after going through a chemical process, lasted up to three years. She was surprised. There she decided to undertake in this field.
Much of Lovely Roses' growth is attributed to social media. Recognized artists such as Demi Lovato, Camila Cabello, and many more. They thanked us via social networks for that beautiful detail that we had left for them. The next day, fans began writing to them and republishing the photos. It was incredible.
Mejía has been able to show the quality of her work in events such as the Premios Juventud, Nuestra Belleza Latina, Premios Lo Nuestro, among other recognized events in the Hispanic market.
For the third consecutive year, her floral arrangements were chosen to decorate the Premios Lo Nuestro event.
Likewise, the queen of roses has gained popularity in the world of celebrities with her personalized arrangements, surprising artists such as Demi Lovato, Camila Cabello, Liam Payne, Adamari López and Karol G, among others. Lovely Roses has not only surprised stars, but also appeared in the video "The secret" by Anuel AA and Karol G.
Despite the success of Lovely Roses, not everything has been rosy for Mejía. It cost her a lot to be a mother due to a hormonal problem, she expressed in a very emotional way. However, after six years of trying, along with the support of her ex-husband, she managed to become a mother, thus fulfilling another of her great desires.
Her message to those women entrepreneurial mothers is not to give up and to involve your family bond.
In addition to mom, businesswoman and lover of roses, Mejía has a YouTube channel with tutorials on how to make flower arrangements. His videos have up to a million views.
Media Contact
Company Name: M2 Studios
Contact Person: Mauricio Rosero
Email: Send Email
City: Miami
State: Florida
Country: United States
Website: http://www.m2studios.net/