Singer-Songwriter Mark Winters: The Music And The Journey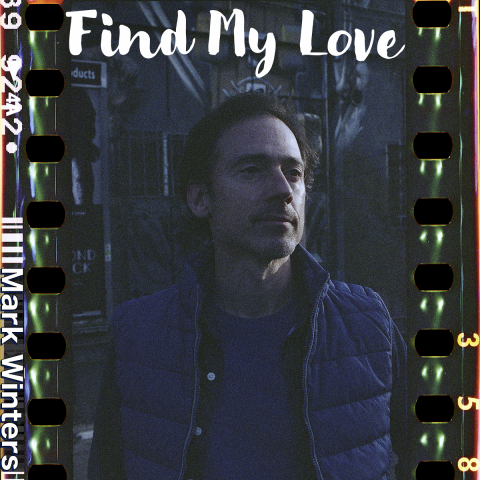 Mark Winters is an alternative rock singer/songwriter/guitarist who garnered a solid fan base with the release of his singles like "Copper Queen", "Strong" and "Be There". Known for his mesmerizing voice and versatile rock music that shuffles between alt, pop, blues, and Indie, Mark has come a long way in his journey, sharing his positive rock vibe with poetic lyrics, strong melodies, and blues/rock guitar hooks. He will be releasing his upcoming single "Find my Love" on May 22nd. This song is about finding love in our journeys together, and a call for people to recognize the small things; the glue that binds us with our lovers.
Interviewer: What/who inspired you to make music?
Mark Winters: When I was in high school, a great friend Scott Felton, introduced me to Rush and several other awesome rock bands. He was a phenomenal drummer, and suggested I pick up a guitar/mic and join in the fun. It got me thinking, and although life took me in a different direction for a while, it was always in the back of my mind. Later in life, I met a friend through some volunteer work that heard me talking about playing guitar, and we started jamming together. He said music is a gregarious affair, and he's right. Making and sharing music is an awesome expression outlet for me. As I began singing covers, I found I couldn't express the lyrics properly if I didn't believe in them, no matter how awesome the melody/guitar hooks. That ultimately lead me to creating my own music, so I could share my thoughts with others, my #RockWithAPositiveVibe.
Interviewer: Tell us more about your upcoming single "Find my Love"?
Mark Winters: I always thought of love in the macro, big weddings, children, destination vacations. I had some time during a trip to California to slow down and enjoy some self-reflection, and as I thought about the relationships in my life, it was the little things, the touch of a hand, the scent of my lover, shared smiles in the mid of life's chaos that I recalled, that made my heart warm and my connections more pure. Find My Love is about that journey, and a call to people to recognize the small things, the glue that bind us with our lovers.
Interviewer: Describe your musical journey so far.
Mark Winters: I started my music career in 2011, playing cover rock songs with some close friends for local charities and venues. When I first started, I just wanted to play 1 gig! After the first one, it was such an awesome feeling, and I wanted to have more! I started learning guitar first, then to sing. A few years ago, I attended a blues guitar workshop in Ventura (Ralph Carter is awesome!) with a friend and really put my feet firmly on the journey to an original artist. Given my 4-piece rockband start to my musical journey, when I began to compose, I found the need to learn basic DAW skills to have a palette to express myself. I have so many thoughts and perspectives to share (I keep a diary of inspirational moments, small poems, and drawings) the hardest part for me is to pick which one to create with next (and what matches my style, I'm still experimenting with genre's). One of my greatest joys thus far has been getting feedback from fans that a particular song spoke to them and helped them with a perspective or struggle in their life.
Interviewer: What is your approach and creative thought process while creating a song?
Mark Winters: I start with a concept from my journal, a poem, an inspiration, a drawing that makes me feel a certain way. I usually have an "episode" where I write most of the lyrics in a continuous lyrical trance (I'm sure there is a more scientific word for this, but hey that's what it feels like!). From that, I experiment with some basic chord and rhythm structures. I use a DAW (Logix) for this part and go back and forth to massage the lyrics and feel. When I have a rough Verse/Chorus/Bridge for the first part of the song, I usually pause for a few days and come back to get some perspective. From there I have some friends who I socialize the track with "as is" (without any explanation to the track) and get their feelings. I also share the tune with my son, who is an awesome vocalist, and very generous with his time to help me. That is the tough part, things are usually pretty raw, and it takes good family/friends to share their time and honest perspective. I am still new to the songwriting craft and learning so much in the process. I am sure my creative process will continue to evolve.
Interviewer: What are some of your best music projects so far?
Mark Winters: My first album, SlipStream, released September of 2019, and was an awesome journey. I learned so much about music creation, distribution, and live performance. I feel having an album out has opened many doors for me, and allowed me to share my perspective with some awesome fans. Recently during the COVID crisis, I have been conducting online "stripped down" concerts (just me and my Stratocaster!) and have really enjoyed the intimacy of the setting (the technical parts, not so much). I have an online benefit concert coming up April 18, 2020, at 7 pm raising awareness and funds for Musicares a charity that provides a safety net of critical assistance for music people in times of need.
Interviewer: What are your goals and dreams as a music artist?
Mark Winters: I have plans to release some more singles this year, and an album early next year. My goal in starting the project is to share my positive perspective with the world in a rock framework – RockWithAPositiveVibe. I hope to play some festivals later this year (if we are through the COVID crisis), and tour late next year. My dream is to make a difference in the lives of people I share this planet with, have a fan base that vibes with my message, and allows me to sustain the music I am creating.
Interviewer: Where can we find your music?
Mark Winters:
https://open.spotify.com/artist/0dfXqjPrnIgC5fM9HtITAT?si=lsAjM7_aT6anUbY1BPqi7g
https://www.facebook.com/MarkWintersBand
https://www.instagram.com/markwintersband
Media Contact
Company Name: MWMusic, LLC
Contact Person: Chris
Email: Send Email
Country: United States
Website: www.markwintersmusic.com