Yoana Umbrella Manufacturer launches Nanny ODM Custom Umbrella Service
Founded in 1991, Fujian Youanna Umbrella Technology Co., Ltd. is located in Dongshi Town, Fujian, the "umbrella capital of China."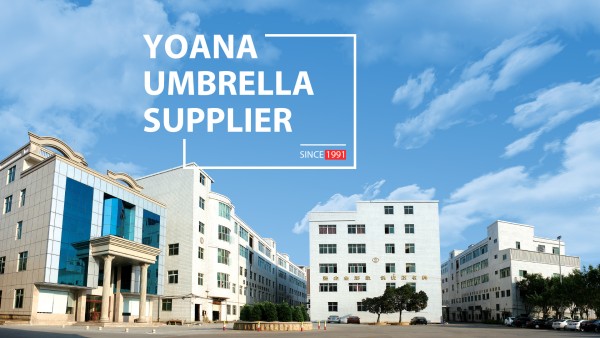 Recently, a batch of custom umbrella orders from Yoana umbrella manufacturers has been completed and sent to Russia, Ireland, Turkey, and other countries. Similarly, these orders are customized umbrellas.
"In the era of appearance level economy, the fashion function of umbrellas are increasingly prominent, because of the company's emphasis on design, and then the good visual presentation on the product, which is one of the reasons for the custom orders." Xu Peiran, the factory director of Yoana Umbrella Industry, said that in order to better serve the customized market, Yoana Umbrella Industry conducted in-depth communication with customers to meet the umbrella's "fashion and practicality", changed the way of logo presentation and got good feedback from the market.
With long-term experience in serving the customized market, Yoana Umbrella business partners cover ALMAS, YuzonT, and other customers from all walks of life, to provide our customers with high-quality customized services for nanny umbrellas!
In order to provide customers with a good service experience, the Yoana umbrella industry customized umbrella process is inquiry quotation, design documents, proofing confirmation, contract signing, deposit collection, preparation and production, delivery arrangement, inspection and customs declaration, submission of documents, and settlement of exchange.
In the fiercely competitive market environment, the Yoana Umbrella industry still makes excellent achievements in the field of customized umbrellas. The market response is good, thanks to the company having the advantages of the whole industrial chain, including rolled steel, plastic, umbrella frame, fabric, and so on. The key parts are already available with them, and the production cycle of products is constantly shortened. In the past 31 years, they have been focusing on technology innovation and manufacturing of folding umbrellas, and a good reputation has won the trust of our customers.
"Yoana umbrella industry as a B2B enterprise, located in" folding umbrella manufacturing "direction on continuous innovation, continuous upgrades, iteration in technology, science and technology content and intelligence to create unceasingly strengthens, continuously optimize the OEM development cycle, product quality, delivery speed, delivery cycle, style design, etc., to provide customers with the best manufacturing and service solutions. Helping customers achieve 'the fastest manufacturing response and the lowest comprehensive cost service,'" Yoana umbrella industry general manager Wang Xiangpeng said.
In the course of 31 years, Yoana Umbrella Industry will continue to take advantage of production and manufacturing to provide more domestic and foreign customers with high-quality, competitive products. Always adhering to the main business and continuously strengthening the supply chain and manufacturing advantages, Yoana Umbrella will further consolidate its position as the world's leading factory brand of folding umbrellas.
To learn more visit: www.yoana-umbrella.com
Media Contact
Company Name: Fujian Yoana Umbrella Technology Co., Ltd.
Contact Person: Support
Email: Send Email
Phone: +86-13615950422
Country: China
Website: www.yoana-umbrella.com