Best Books Spotlight: The Adventures of Mat Rufs by A. Liachenko
Published only a few weeks and already been the #1 New Release and #3 Best Seller on Amazon, The Adventures of Mat Rufs is an action book series that 'hit the ground running'. "It is like a modern-day Indiana Jones," commented one of the Amazon readers. "Anyone who reads James Patterson, Lee Child, or Ken Follet will love the adventures of Mat Rufs," said another.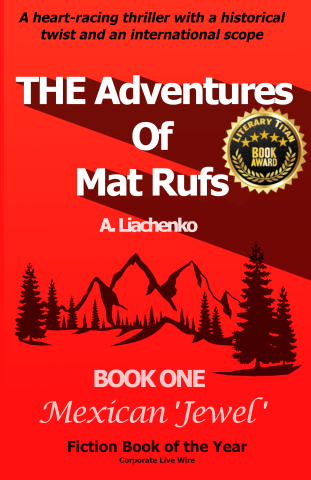 The literary reviews are as encouraging as the consumer feedback. The Adventures of Mat Rufs won the Fiction Book of the Year Award, Golden Book Award as well as 5-star reviews from Literary Titan, OnlineBookClub.org, and the LoveReading (the UK's leading book recommendation website). It is on the Best Books about Mexican Cartels shortlist and sports an average rating of 4.9 on 5.0 by readers on Amazon, Goodreads, and Barnes & Noble.
The eBook is instantly available to be read on a phone, tablet, kindle, or computer. Short chapters with logical pauses make it a great read that can fit into many short breaks of the day or can be devoured all at once. The paper book, with a pleasing design and a velvet-like feel, makes a great Holiday gift for adults and teenagers alike.
The Adventures of Mat Rufs (Book One, Mexican Jewel) is a fun suspenseful story that will entertain and delight. Liachenko has been praised for her "excellent writing throughout" that "will keep the reader intrigued." This adventure narrative has a charming fairy-tale feel to it, especially in the sections that are set in stunning but dangerous caverns. The characters are immaculately articulated, the personalities are complex, and the tension is built up just right. Apart from the story itself, the book is packed with information about history, attitudes, relations, travel, and many things that are usually learned through non-fiction books. So, it is essentially a two-for-one – you won't notice you are learning because you are so entertained. What's even more fun, the sequel is coming out in about 6 months and this time the characters will be ushered into an adventure in a different part of the world.
"Insightful…Thought-provoking…Fascinating…The pace never drops…The modern clashes with the ancient…Characters' lives are intertwined… A surprise at every turn…The perfect entertainment!" — Corporate Live Wire
"I see the signature of this story in a very positive state of mind of its characters, trust in their own intuition, and, if I may say so, — in the benevolence of nature. It was a joy to read this book." — Nicholas, Amazon reader
"This book was a great combination of a historical and modern setting. It was exciting to read about modern technology in one scene and a traditional path in the next. The storyline was great, and I liked that this book provided so much variety." — OnlineBookClub.org "A thought-provoking adventurous journey. Highly imaginative. Thrilling. This book is certainly a treat!" — Excel Book Publishers "This is a fantastic introduction to a series. The writing is excellent throughout, and it will keep the reader intrigued…I implore you to read this book, and I myself am eagerly anticipating reading more of Mat Ruf's experiences." — Literary Titan, official review, ***** "It's apparent in the writing and the description that the author has a strong background knowledge in the Mayan people and ancient Mexican customs." — LoveReading
About the Author
Anna Liachenko is an award-winning writer and entrepreneur. She is the CEO of ZZINC health marketing inc., a real estate investor, a mom, and a travel enthusiast.
Purchase The Adventures of Mat Rufs
https://www.amazon.com/Adventures-Mat-Rufs-Mexican-Jewel-ebook/dp/B0BBFSBX6R
Media Contact
Company Name: ZZINC
Contact Person: Anna Liachenko
Email: Send Email
Country: United States
Website: www.amazon.com/Adventures-Mat-Rufs-Mexican-Jewel-ebook/dp/B0BBFSBX6R