Use This Crisis To Build Generational Wealth with Insider
Capitalist Exploits is the blog and creative outlet of money managers responsible for hundreds of millions in client capital. The mission is simple: to provide readers with an unfiltered version of reality that is sadly missing from mainstream financial discourse. If you believe "the experts" are never wrong, this is not the article for you.
Jump on our free email list above, trial our Investment Newsletter for just $1, or join our follow along investing service.
We don't engage in the typical online marketing crap that we all hate, so if you see anything you like around here, please share where you can spread the word.
Join "Our World This Week", a free weekly newsletter giving you investment advice.
Build with Insider Generational Wealth
Insider gives you access to the personal investments of hedge fund managers responsible for managing ≈$200m. In these extraordinary times, they are looking to not only protect their capital, but to multiply it. You get all our research, and guidance on how to position your capital, from professional money managers whose only objective is investing for 3x – 100x + returns, with minimal risk, in the years ahead.
Leadership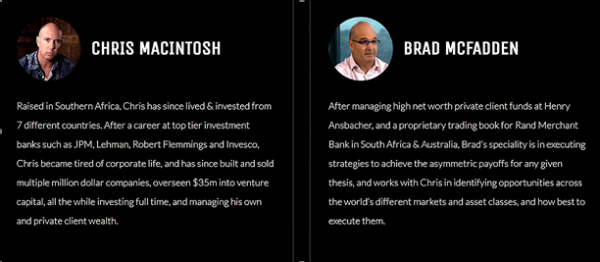 CHRIS MACINTOSH
After working for many top tier investment banks, Chris left he corporate world and has since built and sold multiple million dollar businesses, built a VC firm allocating $35m into early stage ventures, been a full time trader, and manages money full time.
BRAD MCFADDEN
After managing high net worth private client funds at Henry Ansbacher, and a proprietary trading book for Rand Merchant Bank in South Africa & Australia, Brad specializes in execution of the asymmetric opportunities delivered via Insider.
What you get from Insider?
Capital Gains Portfolio
Dozens of asymmetric investments targeting 300% + returns, across many industries, in which Chris and the team are personally invested.
Diversified Income Portfolio
A long term portfolio comprised of 70 – 80 international, diversified stocks targeting ≈8% annual income, with an emphasis on consistency and safety.
Research & Guidance
Underlying research covering all investments, and guidance on how to build your portfolio. We tell you what we're buying & selling, and when. You can follow along at your own pace.
Education
Learn from decades of professional money management experience, with education on our complete investment process, from identifying trades, to portfolio management, to knowing when to sell, to managing emotions.
Monthly Q&A
Get your questions about Investing answered by hedge fund managers with decades of varied experience in global markets across asset classes, and search through our database with ≈1000 existing answers.
Weekly Newsletter
Ongoing commentary from our fund managers on the investment themes, and bonus asymmetric stock positions that we find interesting and compliment the investment themes or have attractive dividends.
Community Forum
Meet likeminded subscribers via our instant messaging forum and organise in person meetups to expand your personal network, and benefit from everyone's collective experience.
Money Back Guarantee
Given the amount of crap out there, we understand people's hesitancy to subscribe to "newsletters". That's why we offer an unconditional, 30 day refund.
Peace of Mind
We invest personally in all our recommendations, and for clients who have given us circa $100m to manage on their behalf. This is no ordinary newsletter, it's fo– – cus is on building generational wealth.
Who's it For?
INVESTMENT STRATEGY
This service will provide you with "deep value" stock recommendations that you can invest in to target asymmetric gains. The majority of recommendations are publicly traded equities available to a retail investor.
RISK TOLERANCE
It's presumed that because we are aiming for multiples on each investment we make, that we must be assuming high risk. This is not the case. In every instance, we're limiting risk so that if one of our picks goes to zero, the most we stand to lose is 1% – 2% of our portfolio. If an entire sector we are investing in goes to zero, then the most we stand to lose is max. 10% of our portfolio. Whereas when our investments work out, they return many times the capital we invested.
TIME HORIZONS
This is for those who understand investing requires a bit of patience. Insider is not a "day trading" service, where we are in and out of the market frequently. Our edge is that we see mispricings long before the market, and position for them. For those who want income (e.g. to make up for yield that their retirement fund no longer provides) we have a dividend portfolio dedicated to providing an ≈8% income that can be used in addition to our capital gains portfolio.
EXPERIENCE
Insider is useful to both new investors, and seasoned investors looking for new ideas. No experience in investing is needed to join Insider. Obviously, the learning curve for someone completely new is far bigger than an experienced investor.
LOCATIONS AND MARKETS
Staff at Capitalist Exploits are located around the world, and we invest globally. For many, this is a new concept – especially if you are used to investing only on the NYSE, ASX, TSX or LSE etc.
Capitalist Exploits Review Video – Trustpilot
Video Link: https://www.youtube.com/embed/17W7WHy8lUI?
Read our customer reviews, but not on our website, but on Trustpilot!
And here is a Good Discount for those who have read the article to the end!
Media Contact
Company Name: Capitalist Exploits
Contact Person: Lucas
Email: Send Email
Country: Singapore
Website: https://capitalistexploits.at