Spunky Grandmas and Other Amusing Characters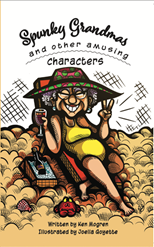 A collection of hilarious tales of human oddities.
"There's one in every crowd who's very rude.
There's one who's on a cell phone way too much.
There's one whose jokes are always really crude
And one who's clueless, truly out of touch.
Most folks have flaws and quirks. Would you agree?
Of course, that's not the case for you and me."
– excerpt from Spunky Grandmas and Other Amusing Characters
Human behavior can be truly outrageous, and in this humorous collection of sonnets, Ken Mogren waxes poetic about the quirks and qualms of the human race.
Egged on by the fantastic illustrations of Joella Goyette, these well-crafted tales will have tears of mirth rolling down your cheeks.
While the stories of simple-mindedness, revenge, and battles of wits, or lack thereof, contained in this collection are fictional, many are inspired by real events. There is no doubt that certain characters will resemble folks you have encountered in your own life.
Broken up into themes, such as quirky men, farts, animals who drink, crabby old ladies, and rednecks, one thing is clear: No matter who you are or where you are, you will always find yourself surrounded by nuts…and you, of course, are the only sane one of the lot.
From spunky grandmas, to raging toddlers, to chronic complainers, this is the perfect collection for anyone so frustrated with the day-to-day that they need to laugh.
"Ken Mogren's sense of humor feels like the first warm breeze after a long winter. His quirky world view, deft turn of phrase, and courageous (and hilarious) use of the sonnet artform makes Spunky Grandmas and Other Amusing Characters a literary treasure." – Patrick Marek, Winona Post
Ken Mogren worked in the insurance industry for 43 years after graduating from Winona State University with a degree in English and psychology. Since retirement, he has reemerged into the realm of creative writing, specializing in his own particular brand of sonnets.
Joella Goyette is making her debut as an illustrator with Spunky Grandmas and Other Amusing Characters. Originally from Winona, she is currently attending Minneapolis College of Art and Design pursuing a BFA in 2D animation.
On sale at www.amazon.com, www.bn.com, and select book retailers April 30, 2022
Order direct from MSI Press website: www.msipress.com/shop For more information or to contact the author for media commentary, email [email protected]
Media Contact
Company Name: MSI Press
Contact Person: Betty Lou Leaver, Managing Editor
Email: Send Email
Phone: 831-578-0290 (phone), 831-886-2486 (fax)
Address:1760-F Airline Hwy
City: Hollister
State: CA 95023
Country: United States
Website: msipress.com/shop