Radhaa Nilia of Radhaa Publishing House invites women to share their Stories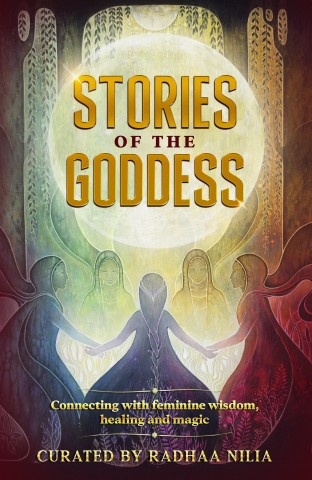 Stories of the Goddess is a collaborative book that Radhaa Publishing House is opening to those who have a sacred relationship with the Goddess in HER many forms. You are invited to join us in this book to represent women who work with the Goddess. It features poetry, stories, and medicine that will enrich the lives of its readers through inspiring content. It celebrates the achievements of incredible women from all walks of life. This book invites readers to find their voice and purpose in working with the Goddess. Radhaa Publishing House is opening doors for authors on September 15th. Space is extremely limited. Contact [email protected] dot com to be a part of this Goddess-filled anthology.
Awakening Starseeds Authors at their book signing event in Ventura California.
Stories of the Goddess: The Goddess is Divine, completely unlimited, and Eternal. She knows herself well and is fearless in the face of challenges. She trusts herself fully and believes in her strength. Her presence emanates peace, healing and her voice reflects power. She is secure, and she is whole. She is gentle in her ways and victorious in all she does! This collaborative book is dedicated to HER. This book is about women taking up space, being seen and heard, using precious talents, knowledge, wisdom, healing, beauty, and offerings to create change, impact, and betterment in the world. The publication will inspire other people to rise into their sovereignty and to connect with their inner divinity!
Radhaa Publishing House celebrates book signing event for Awakening Starseeds in Hollywood.
Stories of the Goddess is a collection of poems, stories, devotion, and healing with the Goddess, designed for conscious women supporting awakening Goddess within women. A lot of work goes into curating these books. Our goal is to help our community broaden its network for the potential opportunities that arise. We know her by many names and see her ways in nature and women across the world. She is the leader, healer, seer, creator, mother, teacher, friend, lover, designer, artist, baker, gardener, singer, dancer, and dreamer that we all know. She is the one who knows her power and believes in her abilities and right to shine as bright as she desires. She is unapologetically herself. She has transformed her pain into power to create a life she loves!
Authors of Awakening Starseeds, Vol. 1&2 at the Book Release Event in Hollywood
"I was inspired to curate this anthology of Goddess stories because I believe every woman has her unique expression and experience with the Goddess that is so personal to her. I have worked with hundreds of women throughout the years with my modality in Goddess Activations™, and I have seen firsthand how the Goddess has helped women to heal, to forgive, to light up an inner fire, to fall in love with themselves, to heal sisterhood wounds, and to awaken that Goddess that has always lived within them. Now is the time to share Divine Feminine stories, inspire readers, and help each other remember our inner Goddess." – says Radhaa.
Radhaa Publishing House is a holistic publishing company that focuses on helping heart-centered authors get their work out into the world. Our focus is on collaborative book series and memoirs. We thrive on supporting our authors throughout this journey, empowering them to step into the voice of their souls. We believe in weaving international voices to come together to elevate authors and readers. We've not only curated and published books, but also put on book signings and events for authors. Stories of the Goddess is one of the three books being curated by Radhaa Publishing House, to be released in 2022. Learn how you can become an author in our collaborative book: "Stories of the Goddess," https://bit.ly/3BNa4T9
Video Link: https://www.youtube.com/embed/joq0-LPZNcE
Authors Sharing their Experience working with Radhaa Publishing House:
"The best part of the whole thing, I loved it all. From the moment we began working together, I felt a team feeling, a family. I felt included in a project bigger than me, but that included me. I loved the healing sessions, and the feedback, the camaraderie in the group of writers, and Radhaa is amazingly supportive and guides this whole process with heart. A true one-of-a-kind experience. As an author for many years, I have never experienced anything like this, it is coaching plus publishing. They believe in you, and they want to see you speak your deepest, most profound truth." – Stasia Bliss, Utah
"Visibility was a big piece of me coming out of the spiritual closet and I felt that Radhaa Publishing House holds a high energy and integrity level. Both of which are important for lightworkers and Starseeds and our message. The curators are all Starseeds themselves and Radhaa Publishing House created this wonderful opportunity for many others to see. I felt that they put their whole heart into making this happen even before, during, and after. It was a project that was totally supportive in nature that made me feel safe to share myself and my story." – Lalitah, Turkey
"Go for it!! Radhaa Publishing House founder Radhaa and her team are the most loving people ever, who really care about you and your message deeply. As a multi-published author, I've never experienced this level of care and support when it comes to the publishing process. What I got from the experience is a serious dose of empowerment and encouragement as a writer and speaker. Writing for Radhaa Publishing House has actually started a whole new chapter in my life and has been a pivotal moment of my journey. For that, I'll be forever grateful! – Aramea, Prague
Radhaa Publishing House is big on supporting authors' voices and creating visibility. All authors receive a video interview and a written interview that will stay online with all their contact info and links. Joining as an author offers creative coaching, a community of authors, support from start to finish. Our books are meant to be everlasting and part of creating a Legacy.
Radhaa Publishing House: www.radhaapublishinghouse.com
Media Contact
Company Name: LNG PROMOTIONS
Contact Person: Raziel
Email: Send Email
Phone: (714) 349-2884
Country: United States
Website: https://www.lnrpromotions.com