Support Izzat Freitekh's La Shish Kabob, the #1 favorite family owned Mediterranean restaurant in Charlotte, North Carolina.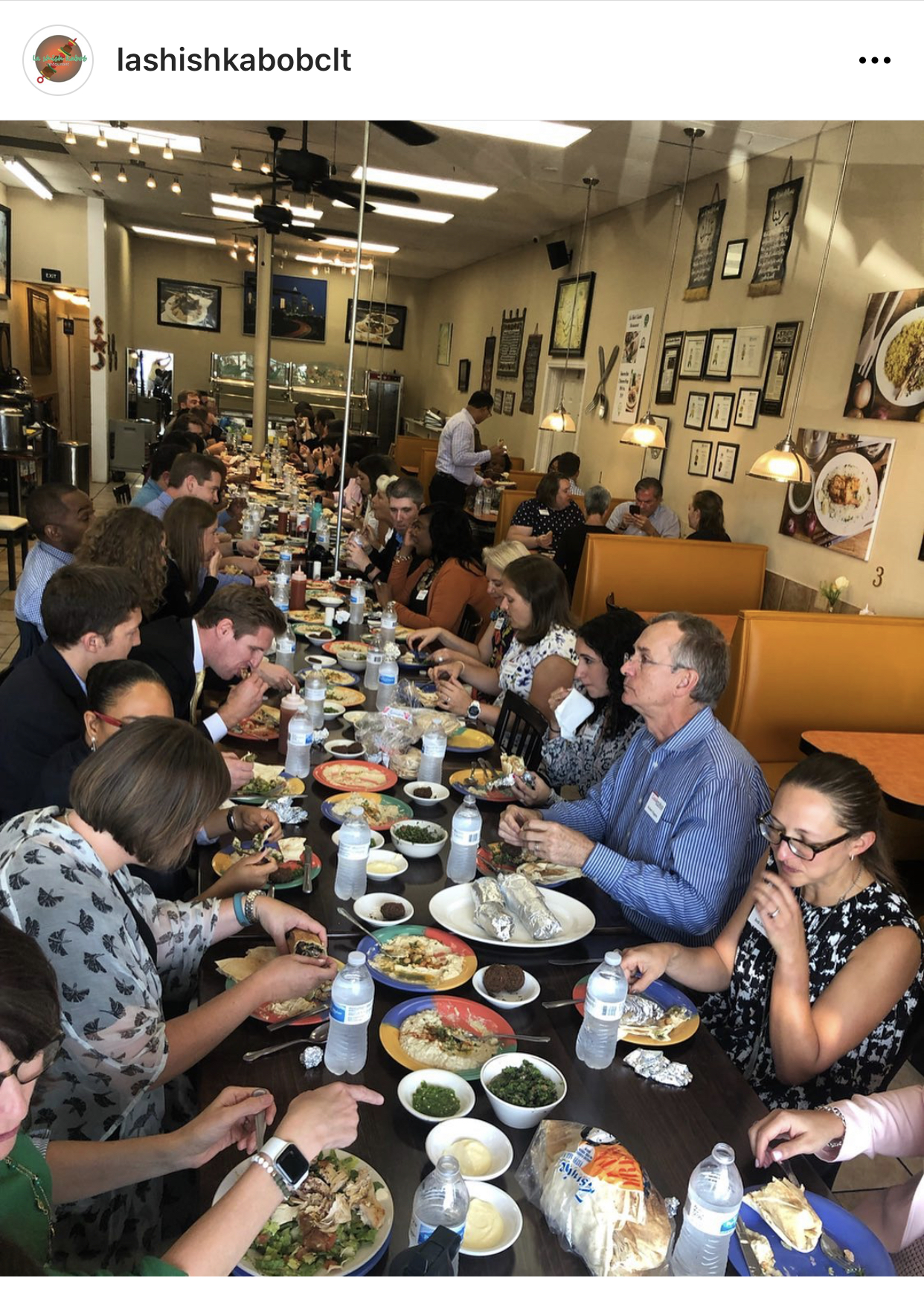 Best restaurant in Charlotte NC
This delicious restaurant, open since 2008, is as welcoming as they come. La Shish kabob was founded by Izzat Freitekh. Mr. Freitekh provided us with wonderful explanations and recommendations from the vast menu. There is history to his authentic middle eastern recipes. La Shish Kabob's signature shawarma with rice is mouth watering. Don't forget to add their special sauce.
Aside of the shawarma, they offer a wide variety of food. Cornish hen (baby chicken), lamb shanks, mixed grill (which includes three skewers: lamb, kefta (marinated ground beef) and chicken. The orders include a side of rice, grilled vegetables, salad, and pita bread. Trust me, it's a lot of mouth watering food.
The most important ingredients served at La Shish Kabob are warmth and welcome. Upon entering, customers are greeted by a gong doorbell and boisterous welcome. If one come hungry, be forewarned: the place smells delicious, but it can be difficult discerning exactly which dish is tickling one's olfactories. A glass case displays beef kabobs, lamb kabobs, and whole rotisserie chickens covered in the secret herb mix dripping juice before a patron's eyes.
Everything is homemade. From the falafel, hummus, baba ganoush, to the delightfully garlicky red and green hot sauce. The food is spicy but not too hot, except a few items. For example, the 'Adanna Kebob' dish is lamb covered in a mix of flavorful ingredients that will indeed make you break a sweat. It is named after a city in Turkey, where the dish originates. The Adanna dish came patted by hand into patties and carefully formed onto long flat skewer. It was generous dish served with flatbread, rice, and salad. Kebabs of chopped meat, instead of ground, offer a much better texture. These were tender with a bit of heat from chile flakes.
For dessert, a fresh homemade baked Baklava. All in all, 'La Shish Kabob' is more like eating at someone's home than in a neighborhood restaurant.
The founder, Izzat Freitekh, was born in Jerusalem. He has been in the restaurant business for over 35 years. He has a reputation that takes us all the way back to the good old streets of The old City of Jerusalem. He was the first to start fast food and food delivery chains. Mr. Freitekh also has a street named after him right between the famous American Colony Hotel in Jerusalem and the famous Orient House. That is where he started his first restaurant in his fathers movie theater (Al Nuzha) in 1983. The first built movie theater in Jerusalem.
Media Contact
Company Name: Music News
Contact Person: Marco Gandolfi
Email: Send Email
Phone: 3105462268
Country: United States
Website: Music-news.com