Author and Art Expert Charles Moore Announces New Book, "The Black Market: a Guide to Art Collecting"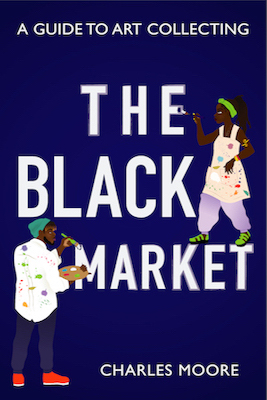 "The Black Market: A Guide to Art Collection" is Charles Moore's first book. Moore is currently pursuing a Doctorate in Art and Museum Studies at Columbia University's Teachers College.
Distinguished New York City-based author and art expert Charles Moore is proud to announce that his first book, "The Black Market: A Guide to Art Collecting," is now available for purchase.
New York, NY, USA – December 1, 2020 – With many people increasingly interested in acquiring art that features the work of a diverse array of artists, The Black Market delivers a history of Black Artists in the United States as well as a "how-to" blueprint for how anyone can start their own art collection. Moore begins his work by providing an overview of Black artists born between 1900-90 before discussing museums and their exhibitions, galleries and shows, auctions, and how to acquire art.
The Black Market also contains interviews from top collectors of Black art, advice from experts of Black art, and a collection of Moore's essays with collectors of art from all walks of life in addition to an all-encompassing guide that includes a glossary of common terms and advice about art insurance, art storage, and common art maintenance practices.
"I wrote The Black Market to give people interested in art collection a blueprint to educate themselves about the history of Black art, which is increasingly in high demand, as well as collect it," says Moore. "My hope is that the book will provide valuable guidance to all levels of a collector, whether someone is just getting started or has many years of experience."
Learn more and order The Black Market: A Guide to Art Collecting here.
Praise for The Black Market: A Guide to Art Collecting
"Collectors are discovering the amazing talents of Black artists. Charles Moore helps direct new collectors through the world of galleries and institutions… to make their journey in the art world less daunting." – Beth Rudin DeWoody, Whitney Museum Board Member and American art patron, collector, curator, and philanthropist
"Charles Moore has assembled a remarkable, informative survey of African American art conservation and collecting. His synopsis of major artists, galleries, museums, and movements within the field is enlightening and engaging. Readers will appreciate the material that is showcased, and the conversations the works will prompt. The consideration of artists born in each decade of the 20th century is a much-needed addition to the field and dialogue of Black Art History." – Jessica Tingling, San Francisco
"A connoisseur offers advice for collecting African American works of art … An essential primer on collecting Black art that expertly blends the passion of an art student with the expertise of an insider." – Kirkus Reviews
"The Black Market: A Guide to Art Collecting is a primer for would-be collectors and provides information on how to start collecting pieces from African American and Black artists." – D. Donovan, Midwest Book Review
About Charles Moore
Charles Moore has published work on contemporary arts and related topics on Artnet, Artsy, and Cultured Magazine, and many other places. Based in New York City, he graduated from Harvard University with a Masters in Museum Studies, holds a B.S. from Ferris State University, and an M.B.A. from St John's University.
Connect with Charles Moore:
Website | Twitter | Instagram | LinkedIn
Media Contact
Company Name: AAPH Press Distribution, LLC
Contact Person: Charlotte Gold
Email: Send Email
Phone: 617-586-2200
Address:1231 Williams Blvd
City: New Orleans
State: LA
Country: United States
Website: www.petiteivypress.com