Ingemar Anderson Challenges The Current Capitalistic Paradigm In "The Wealth Of Generations – Transitioning from Big-Firm Capitalism to Entrepreneurial Capitalism and a Shared Economy"
Trained economist, author, and entrepreneur, Ingemar Anderson, teaches how to successfully build generational wealth and move up the societal ladder in his new book "The Wealth Of Generations"
"The Wealth Of Generations" is set to be officially released in all bookstores across the globe on the 2020 Entrepreneur's Day, November 19, 2021, as Ingemar Anderson continues in his quest to help people escape the vicious cycle of 'wage-slavery'. The book offers a comprehensive look at colossal proportions with three parts covering more than 30 topics on successful wealth generation to help anyone, regardless of background, to create sustainable wealth.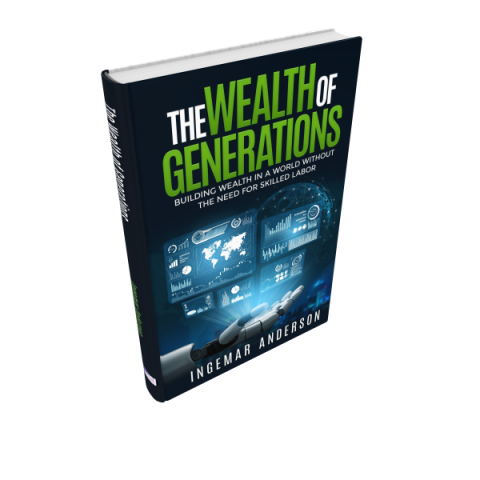 "This is a book that everybody should have when they leave school at the age of 18. It is a financial literacy book. It not only teaches you from the financial perspective on making money but also from the perspective of what kind of person you need be to create wealth. Wealth and assets are different things. Wealth and net worth are also different things. Also, from a female perspective, I connected with the book,"said Kristina Nyzell, Co-Founder of Futureproof Fund, Founder and CEO of Disruptiveplay, Board Member Women for Sustainable Growth (W4SG.ORG)
"More than 30 Topics on successful wealth generation!" said Trace Whittaker, Reprospace Editorial Reviews.
"Mr. Anderson tackles a vital subject and gives us the chance to get ahead of it before it may be too late-our ability to earn wealth," said Adam C. Smith, Branding Expert, Founder Blue Creations.
Over the decades, society has made people believe that skilled labor is the major source of income. However, recent developments have shown otherwise, as wages are not keeping up with more people losing their jobs due to technological advancements. It has also become evident that income generated from skilled labor is no longer sufficient to make a living, with a suggested Universal Basic Income without a clear understanding of how to invest not necessarily being a solution to the problem. Unfortunately, the COVID-19 pandemic has not particularly helped matters, making wealth building even more difficult as an employee. Ingemar Anderson is however looking to inform millions of people across the globe of the imminent challenges due to technological advancements, especially as it affects their job and how individuals can create wealth without necessarily working for money.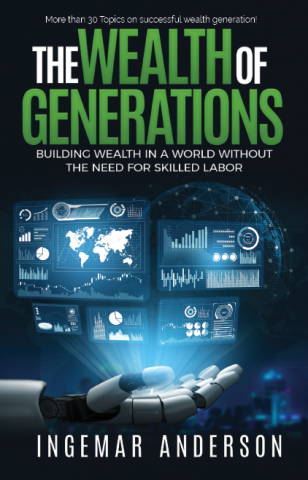 Published by KitsapPublishing.com, "The Wealth of Generations" serves as an eye-opener for employees to evaluate their career choices as Anderson challenges the current capitalistic paradigm that is based on skilled labor. Anderson hopes to help readers leverage technology to acquire wealth while offering skilled labor in a philanthropic manner, ultimately calling for a paradigm shift from nation-centered capitalism to human-centered capitalism.
"The Wealth of Generations" is currently available on pre-order on Shopify with a $3 discount.
For more information about "The Wealth of Generations" and other projects from Ingemar Anderson, please visit – https://www.ingemar-anderson.com and LinkedIn.
About Ingemar Anderson
Anderson is a trained economist with a Master's Degree in Finance. He has started several successful businesses and has invested in many real estate properties for income. Ingemar Anderson is an author, investor, and entrepreneur. He has a passion for ethical wealth development, which inspired his newest book – "The Wealth of Generations."
Media Contact
Company Name: Kitsap Publishing
Contact Person: Ingemar Anderson
Email: Send Email
Phone: 360-626-0241
Address:1450 NW Finn Hill Rd
City: Poulsbo
State: WA 98370
Country: United States
Website: https://www.ingemar-anderson.com/