Valexis's First Album, Fairy Tales, Produced By Mark Zubek Of Zedd Records, Will Be Released December 3rd, 2020 Across Major Music Platforms
Valexis is a classically-trained pianist and a contemporary-trained singer. She began writing songs several years ago when a toaster attacked her and she hit her head on a beige marble countertop. She refuses to give any more details about the experience, which she claims was "perhaps spiritual"; she suspects that her songwriting may have emerged as a byproduct of brain damage, but isn't too worried about it.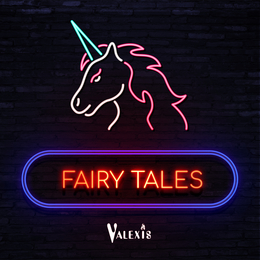 "Valexis has put together an album of big pop songs — they're hooky, well-constructed, and slightly futuristic." – Murray Foster
The Album "Fairy Tales" will be available on December 3rd, 2020 on major music platforms such as Apple Music, Spotify, Google Play, and more. Valexis likes to describe her album as "Lady Gaga meets Avril Lavigne in outer space while Rihanna and Katy Perry time-travel to the future to watch Enya perform." When asked to be more concise, she said, "It's electropop."
"Fairy Tales" is a pop album built off the style made popular in the 1990s and 2000s but with modern electronic sensibilities and a slight but noticeable R&B swing. Valexis's voice is delicate, often ethereal, and a touch theatrical. The album is often lyrically dark but musically upbeat, creating a rich emotional landscape that pop music lovers would enjoy.
Valexis offers originality that extends beyond the somewhat formulaic pop framework that she not only utilizes but exalts. The balance between tension and release is masterfully manipulated in contrasting sections in her songs. The juxtaposition between the melancholy lyrics and underlying optimism of the music provides a multi-layered experience, diving into a rich emotional spectrum.
Thanks to Mark Zubek's wizardry, this new album is sonically cohesive, sonically detailed, and sonically rich. The overall effects are sometimes sweepingly cinematic, sometimes hauntingly close, but they always encapsulate each musical moment with sincerity. Even if Valexis is daydreaming about a wonderland light years away, she is always accessible and authentic.
"Fairy Tales" [the song] has one of the coolest Pop hooks/choruses I've heard in a while. Excellent songwriting craftsmanship and production value. Great job! A must-hear!" – Doug Diamond
Visit Valexis's website and download the first single, "Defenseless," for free: http://www.whoisvalexis.com
Connect with Valexis on Instagram and Twitter: @whoisvalexis
Watch the lyric video for "Fairy Tales" on YouTube at: https://www.youtube.com/watch?v=uWrLRs3klwg
Media Contact
Company Name: 3000 Records
Contact Person: Terrance Schemansky
Email: [email protected]
Phone: (888) 463-4336
Address:P.O. Box 285
City: Fenton
State: MI
Country: United States
Website: http://www.whoisvalexis.com