Spinocerebellar Ataxias Pipeline Insight, 2020 By Delveinsight
(Albany, US), Delveinsight has launched a new report on Spinocerebellar Ataxias Pipline
Spinocerebellar Ataxias Pipeline Insight, 2020 report by DelveInsight outlays comprehensive insights of present clinical development scenario and growth prospects across the Spinocerebellar Ataxias market. A detailed picture of the Spinocerebellar Ataxias pipeline landscape is provided, which includes the disease overview and Spinocerebellar Ataxias treatment guidelines. The assessment part of the report embraces in-depth Spinocerebellar Ataxias commercial assessment and clinical assessment of the Spinocerebellar Ataxias pipeline products from the pre-clinical developmental phase to the marketed phase. In the report, a detailed description of the drug is proffered including mechanism of action of the drug, clinical studies, NDA approvals (if any), and product development activities comprising the technology, Spinocerebellar Ataxias collaborations, licensing, mergers and acquisition, funding, designations, and other product-related details.
Spinocerebellar Ataxia (SCA) is a genetic disorder which is progressive, degenerative, and often fatal. The clinical marker of all SCAs is a progressive loss of balance and coordination accompanied by slurred speech. The mobility and communicative skills of individuals with an SCA are restricted, which strongly impairs quality of life, and many SCAs lead to premature death. Genetically, the SCAs fall into two major groups: those caused by dynamic repeat expansion mutations (repeat expansion SCAs) and those caused by nonrepeating mutations. Further, repeat expansions are also a major cause of non-SCA inherited neurological diseases. There are at least 12 repeat expansion SCAs. Six of these diseases—SCA1, SCA2, SCA3/Machado–Joseph disease, SCA6, SCA7, and SCA17 are caused by translated CAG repeat expansion mutations that encode stretches of pure glutamine in the respective disease proteins; these diseases are thus referred to as polyglutamine SCAs.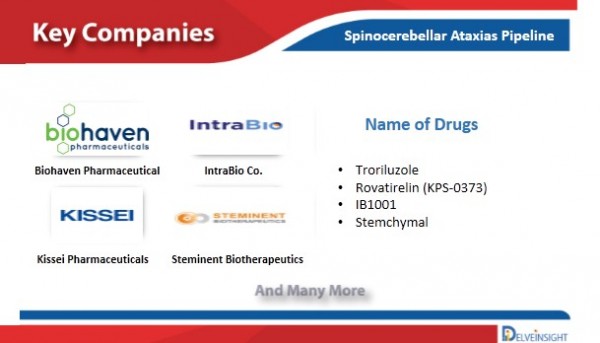 Request for free sample page:- https://www.delveinsight.com/sample-request/spinocerebellar-ataxias-pipeline-insight
Spinocerebellar Ataxias Pipeline development activities
The report provides insights into:
All of the companies that are developing therapies for the treatment of Spinocerebellar Ataxias with aggregate therapies developed by each company for the same.
Different therapeutic candidates segmented into early-stage, mid-stage and late stage of development for the Spinocerebellar Ataxias treatment.
Spinocerebellar Ataxias key players involved in targeted therapeutics development with respective active and inactive (dormant or discontinued) projects.
Drugs under development based on the stage of development, route of administration, target receptor, monotherapy or combination therapy, a different mechanism of action, and molecular type.
Detailed analysis of collaborations (company-company collaborations and company-academia collaborations), licensing agreement and financing details for future advancement of Spinocerebellar Ataxias market.
The report is built using data and information traced from the researcher's proprietary databases, company/university websites, clinical trial registries, conferences, SEC filings, investor presentations, and featured press releases from company/university web sites and industry-specific third-party sources, etc.
Spinocerebellar Ataxias Pipeline
Spinocerebellar Ataxia (SCA) treatment landscape is currently devoid of any approved therapies. The clinical care of patients with SCA focuses on managing the symptoms through physiotherapy, occupational therapy, and speech therapy. Intense research has greatly expanded understanding of the pathobiology of many SCAs, revealing that they occur via interrelated mechanisms (including proteotoxicity, RNA toxicity, and ion channel dysfunction), and has led to the identification of new targets for treatment development. In past decades, several pharmacological treatments were tested in clinical trials for their efficacy toward ataxia. Some encouraging results were reported in a few randomized, double-blind, placebo-controlled studies, with drugs, including riluzole, valproic acid, varenicline, and lithium carbonate, but no definite evidence of benefit was established.
There continues to be an unmet need for more effective treatments for SCA, as is evidenced from the multitude of clinical studies that are under way. Here is a brief overview of studies that's are nearing completion and some products that have been filed for regulatory approval.
Troriluzole is a novel, oral, third-generation pro-drug and new chemical entity glutamate modulator being in development by Biohaven Pharmaceuticals for the treatment of Spinocerebellar Ataxia. It is a new chemical entity that modulates glutamate with primary mode of action is to reduce the synaptic levels of glutamate. The company is currently leading a Phase III Long-Term, Randomized, Double-blind, Placebo-controlled Trial of Troriluzole in Adult patients with Spinocerebellar Ataxia. The company had already reported positive clinical outcomes from the ongoing Phase II/III trial of Troriluzole in Spinocerebellar Ataxia. The company expects to complete enrollment in the Phase III trial of troriluzole in SCA in the first quarter of 2020. For troriluzole, Biohaven Pharmaceuticals have already received both orphan drug designation and fast track designation from the US FDA for the treatment of SCA.
Kissei Pharmaceutical is currently developing Rovatirelin (KPS-0373) in Phase III for the treatment of spinocerebellar ataxia. Rovatirelin is a derivative of the thyrotropin-releasing hormone initially developed by Shionogi and later on licensed by Kissei. It activates the nervous system by promoting the release of monoamine neurotransmitters, such as acetylcholine and dopamine after binding to TRH receptors distributed in the central nervous system. The company had already completed a Phase III trial of Rovatirelin in Spinocerebellar Ataxia and is consulting with PMDA for the treatment of spinocerebellar degeneration.
Other than these, there are many other drugs which are being evaluated for SCA in early as well as late phase of development. IB1001 is a modified amino acid (N-Acetyl-Leucine), in Phase II stage of development by IntraBio for Ataxia-Telangiectasia. It has been granted orphan designation by the US FDA and orphan medicinal drug designation by the European Commission for the treatment of Spinocerebellar Ataxias. Wave Life Sciences is currently focused on developing a therapy to treat SCA3 by targeting the ATXN3 gene. Steminent Biotherapeutics is developing its most advanced cell therapy product candidate Stemchymal in Phase II for the treatment of SCA. It has received US FDA Orphan Drug Designation for the treatment of PolyQ SCAs.
Emerging therapies included in the report
Troriluzole: Biohaven Pharmaceuticals
Rovatirelin (KPS-0373): Kissei Pharmaceutical
IB1001: IntraBio
Stemchymal: Steminent Biotherapeutics
Request for free sample page:- https://www.delveinsight.com/sample-request/spinocerebellar-ataxias-pipeline-insight
Table of content
1. Report Introduction
2. Spinocerebellar Ataxias
3. Spinocerebellar Ataxias Current Treatment Patterns
4. Spinocerebellar Ataxias – DelveInsight's Analytical Perspective
5. Therapeutic Assessment
6. Spinocerebellar Ataxias Late Stage Products (Phase-III)
7. Spinocerebellar Ataxias Mid Stage Products (Phase-II)
8. Early Stage Products (Phase-I)
9. Pre-clinical Products and Discovery Stage Products
10. Inactive Products
11. Dormant Products
12. Spinocerebellar Ataxias Discontinued Products
13. Spinocerebellar Ataxias Product Profiles
14. Spinocerebellar Ataxias Key Companies
15. Spinocerebellar Ataxias Key Products
16. Dormant and Discontinued Products
17. Spinocerebellar Ataxias Unmet Needs
18. Spinocerebellar Ataxias Future Perspectives
19. Spinocerebellar Ataxias Analyst Review
20. Appendix
21. Report Methodology
22. About Delveinsight
Related Reports
Spinocerebellar Ataxia (SCA) – Epidemiology Forecast to 2030
Spinocerebellar Ataxias Market Insight, Epidemiology and Market Forecast -2030
Media Contact
Company Name: DelveInsight Business Research LLP
Contact Person: Yash Bhardwaj
Email: Send Email
Phone: +919650213330
Address:304 S. Jones Blvd #2432
City: Las Vegas
State: NV
Country: United States
Website: https://www.delveinsight.com/