Geographic Atrophy Market Insights, Epidemiology, and Market Forecast-2030
(Albany, US) DelveInsight has launched a new report on Geographic Atrophy Market
DelveInsight's Geographic Atrophy Market Insights, Epidemiology, and Market Forecast-2030 report delivers an in-depth understanding of the Geographic Atrophy (GA) , historical and forecasted epidemiology as well as the Geographic Atrophy (GA) market trends in the United States, EU5 (Germany, Spain, Italy, France, and United Kingdom) and Japan.
The Geographic Atrophy market report provides current treatment practices, emerging drugs, Geographic Atrophy (GA) market share of the individual therapies, current and forecasted Geographic Atrophy market Size from 2017 to 2030 segmented by seven major markets. The Report also covers current Geographic Atrophy treatment practice/algorithm, market drivers, market barriers and unmet medical needs to curate best of the opportunities and assesses the underlying potential of the market
Geographic Atrophy (GA) is an advanced form of age-related macular degradation (AMD), which is characterized by progressive loss of visual function and is irreversible. It is defined by the presence of sharply demarcated atrophic lesions of the outer retina, resulting from loss of photoreceptors, retinal pigment epithelium (RPE), and underlying choriocapillaris.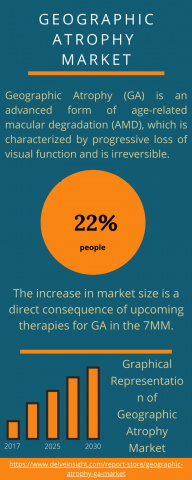 Request for free Sample page:- https://www.delveinsight.com/sample-request/geographic-atrophy-ga-market
Geographic Atrophy (GA) Drug Chapters
Drug chapter segment of the Geographic Atrophy (GA) report encloses the detailed analysis of Geographic Atrophy (GA) marketed drugs and late stage (Phase-III and Phase-II) pipeline drugs. It also helps to understand the Geographic Atrophy (GA) clinical trial details, expressive pharmacological action, agreements and collaborations, approval and patent details, advantages and disadvantages of each included drug and the latest news and press releases.
Geographic Atrophy Market Insights
Contrary to neovascular (n-AMD), characterized by acute vision loss and anatomical and functional improvement after treatment, Geographic Atrophy (GA) is a slowly but inexorably progressive disease that causes irreversible blindness over time. Although no significant cure exists yet for GA, healthy lifestyle and nutritional intervention may help to prevent the onset and to delay the progression toward n-AMD. The primary goal of GA treatment is to stop or slow disease progression to prevent vision loss. However, strategies for management of AMD include low visual aids and preventive measures with the antioxidants exists currently. The mainstay treatment of GA includes over-the-counter high-dose antioxidants and minerals (AREDS supplements) to make the affected individuals clinically comfortable.
Table of content
1. Key Insights
2. Geographic Atrophy Executive Summary
3. KOL Views
4. SWOT Analysis of Geographic Atrophy (GA)
5. Geographic Atrophy Market Overview at a Glance
6. Geographic Atrophy Disease Background and Overview
7. Diagnosis/Imaging of GA
8. Epidemiology and Patient Population
9. The United States Epidemiology
10. EU-5 Epidemiology
11. Japan Epidemiology
12. Geographic Atrophy Treatment
13. Unmet Needs
14. Geographic Atrophy Patient Journey
15. Key Endpoints in Geographic Atrophy Clinical Trials
16. Geographic Atrophy Emerging Therapies
17. Geographic Atrophy Conjoint Analysis
18. Geographic Atrophy (GA): Seven Major Market Analysis
19. 7MM Geographic Atrophy Market Size
20. Geographic Atrophy Market Access and Reimbursement of Geographic Atrophy (GA) Therapies
21. Geographic Atrophy Market Drivers
22. Geographic Atrophy Market Barriers
23. Appendix
24. DelveInsight Capabilities
25. Disclaimer
26. About DelveInsight
Related Reports
Media Contact
Company Name: DelveInsight Business Research LLP
Contact Person: Yash Bhardwaj
Email: Send Email
Phone: +919650213330
Address:304 S. Jones Blvd #2432
City: Las Vegas
State: NV
Country: United States
Website: https://www.delveinsight.com/