How to Step Off the Sickness Treadmill: Caring Today For Your Health Tomorrow By Dr. MaryAnn Franko
Announcing the release of a new book from Dr. MaryAnn Franko titled, How to Step Off the Sickness Treadmill.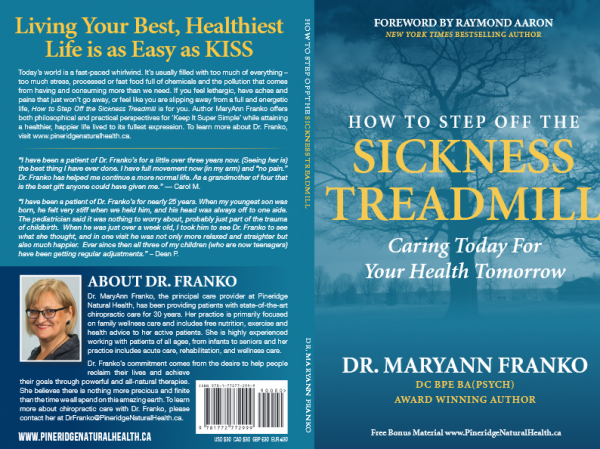 This informative book takes a fresh look at healthy living, and new ways to give yourself the best life without having to deviate according to each and every health trend that comes your way.
Coming from a spiritual background, Dr. Franko looks at the natural side of health to give you her simplified perspective on life. She explains that the systems in place have made it so that we look towards different medicines to cure us of specific ailments. Looking deeper though, there are also paradigms that she looks to for the holistic path for supporting one's health. She not only discusses the ways you can improve your approach to health from the outside, but also what may help you to heal from the inside out, including the foods you eat.
Dr. MaryAnn Franko gives to you her wisdom from 40 years of clinical practice to empower you to better manage the stress of daily life and live a healthy lifestyle, naturally and simply.
How to Step Off the Sickness Treadmill book is also available on Amazon.
About The Author
Dr. MaryAnn Franko, the principal care provider at Pineridge Natural Health, has been providing patients with state-of-the-art chiropractic care for 30 years. Her practice is primarily focused on family wellness care and includes free nutrition and health advice. She is highly experienced working with patients of all ages, from infants to seniors and her practice includes acute care, rehabilitation,and wellness care.
Dr. Franko's commitment comes from the desire to help people reclaim their lives and achieve their goals through powerful and all-natural therapies. She believes there is nothing more precious and finite than the time we all spend on this amazing earth.
To learn more about chiropractic care with Dr. Franko, please contact her at [email protected]
Media Contact
Contact Person: Dr. MaryAnn Franko
Email: Send Email
Country: Canada
Website: http://www.amazon.com/dp/1772772992