COVID-19 impact on Global Video on Demand Market 2020-2025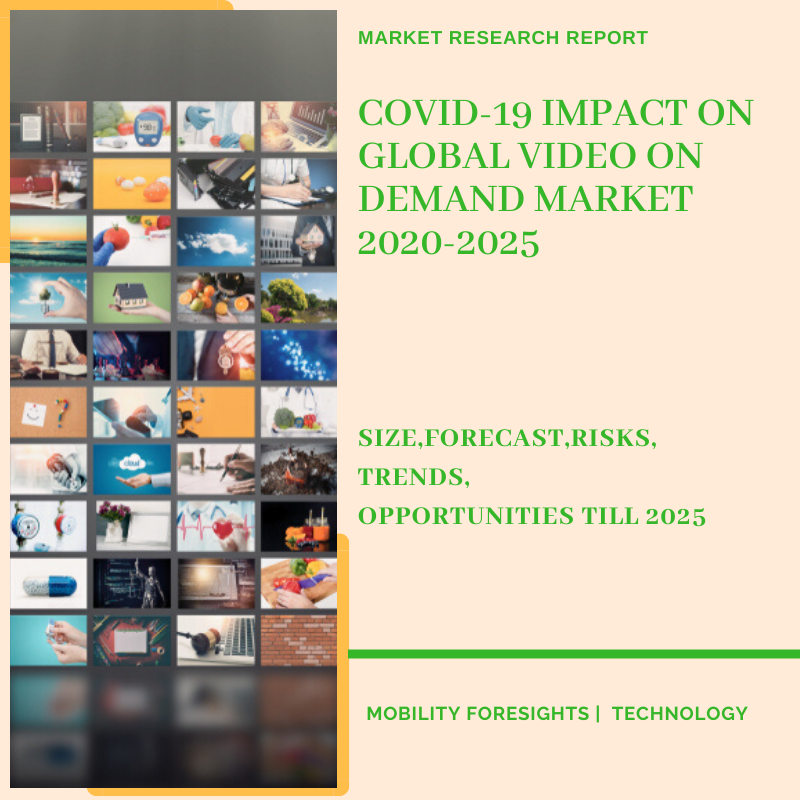 The global Video on Demand market will be worth ~$48 Billion in 2020 and ~$82Billion in 2025, driven by increasing availability of mobile data in emerging countries.
Key contents of the Global Video on Demand Market report include
Market size & Forecast segmented by region, technology type, application
Technology trends in Video on Demand Market, average margin by region
COVID-19 impact on Video on Demand Market
Improvement in Internet infra post lockdown, by region
Competitive landscape, market share and growth strategy of leading vendors
KEY FINDINGS
By 2025, APAC is forecasted to account for 49% of market volume/subscriber base, North America will account for 16 % market volume, Europe for 10% and Latin America 10%
China Video on demand market size is estimated to reach ~$7.1 Billion by 2025.The growth rate is forecasted to slow down from 19.8% in 2021 to 8.9% in 2025 as market matures
Demand for original content, development of smart devices, availability of high-speed internet and convenience to access video content anytime are the drivers of such enormous potential in the Video on Demand market
Viu (Hong Kong), Disney+Hotstar (India) and iQiYi (China) are the leading platforms having highest number of subscribers. Britbox (U.K) and Blim TV (Spain) are among the leading Video on demand service provider in Europe
During a consumer survey conducted in India in May 2020, Netflix was found to be the most preferred Video on demand service amongst the respondents with 79.8% votes, followed by Amazon Prime Video with 77.2% votes.
Download sample- https://bit.ly/videmand
GLOBAL VIDEO ON DEMAND MARKET TRENDS
In U.S. the shift from traditional cable and satellite network to VOD and increased number of HQ content available on OTT has attracted more people The rise of US based streaming platforms is another major factor affecting the market
Netflix reached its all-time high in terms of traffic and screen time during the weekend of the first week of lockdown in US in March 2020 and had to reduce the bandwidth consumption by 25% in Europe
SVOD payment model offered by major OTT platform players like Netflix and Amazon Prime Video is the most popular in terms of revenue, accounting for 51% of global spend on OTT in 2020
Advertising (or ad-based) video on demand (AVOD) model: AVOD is unsuitable for new OTT market players, who are yet to create their subscriber base, as AVOD is driven by volumes. The AVOD model suits YouTube as it has a massive audience
Download sample- https://bit.ly/videmand
FINDINGS FROM CONSUMER SURVEY ON INDIA VIDEO ON DEMAND MARKET
26.3% of the respondents said that they in the range of INR 200-399(~$3-$5) per month on streaming services and 19.3% of the respondents said they spend in the range of INR 400-599(`$6-$8) per month on streaming services
66.7% of the respondents said that original TV shows is the most watched content online followed by movies which is preferred by 53.5% of respondents
55.2% of the respondents spend 2 or 3 hours per day on streaming content while most preferred type of content is full episodes of shows.
Download sample- https://bit.ly/videmand
COMPANY PROFILES
Disney Hotstar
iQiYi
Viu
Britbox
HOOQ
YouTube
Netflix
Amazon Prime Video
Vudu
Hulu
IndieFlix
Vubiquity
HBO
THIS REPORT WILL ANSWER FOLLOWING QUESTIONS
Video on Demand Market size and Forecast (Units and $Million), by region, by application
Average commission rates for Video on Demand Market, by region
Technology trends and related opportunity for new Video on Demand component suppliers
Market share of leading vendors, by region,2020
Coronavirus impact on Video on Demand Market earnings
Media Contact
Company Name: Mobility Foresights
Contact Person: Kunal Roy
Email: Send Email
Phone: +1-315-675-4056
Address:P3 & P4, HAL 3rd Stage 204,56/2
City: Bangalore
State: Karnataka
Country: India
Website: https://mobilityforesights.com/