SHARK has made a great breakthrough of printing speed and addable functions for FDM desktop 3D printers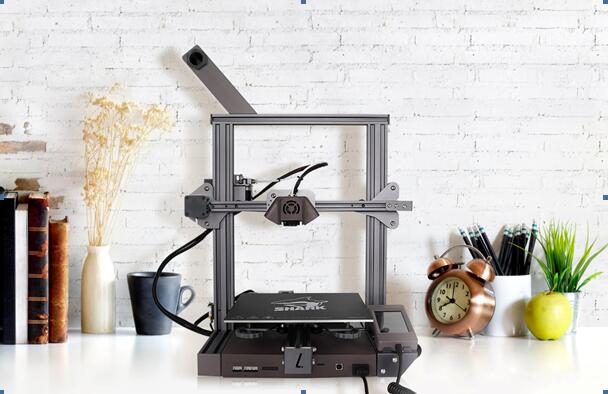 3D printing is not a futuristic concept, it's a reality incredibly near. Especially in the age of global pandemic, 3d printing has been proved to be of great support facing shortage of supplies. Makers, hobbyist and manufacturing experts, the global community is up to respond to COVID-19 and coronavirus resources with their wits and expertise. From face shield to medical care, 3d printing is the timely assistance in this public health crisis.
3D printing technology has been advancing for the past few decades and the possibilities never ends. At least not here, with SHARK. a desktop 3D printer has always strived to be part of the innovation, to provide premium and powerful products, to help more people to gain access to 3d printing and build a highly-engaged global community. SHARK printer is successfully brought to life by bearing this mission in mind. It's an inspiring machine that is not just user-friendly to newcomers but also the makers and hobbyists who require the whole package to fully unleash creativity as well as tackling challenges.
A gamechanger on the market
The SHARK printer stands out of the crowd for a reason. It's printing faster than many models nowadays on the market, thanks to the innovative technology of heat dissipation. The SHARK is equipped with dual systems that are able to make it a powerhouse among contemporaries. The unique and signature design allows it to dissipate heat more efficiently, therefore the nozzles print much smoother which can successfully cut down 30% standard print time. But that doesn't mean the print quality would be compromised; The SHARK printer has ensured the sprint quality and stability with its innovative technology.
Plug and play, absolute breeze.
Features like auto leveling, laser engraving and two color printing sometimes don't come together on one machine, not to mention the complicated recoding and adjustment of these add ons before pressing the print button. The SHARK'S team realized it as well, the printer is designed with user-friendliness in mind, especially for newcomers to 3D printing. Plug-and-play, Simply attach the interchangeable modules to nozzle, hassle free.
Build quality
SHARK printer levels up printing experience not just in terms of multiple functions with convenience but also the quality. The product is equipped with a steel build plate that is flexible and durable. Either you are going to glue or remove the models, the plate is making it easier than usual. With the body powered by Anodic oxide technology, the printer is no doubt rigid and crafted with premium quality as well. Plus the 3.5-inch touchscreen with ergonomic design, you may control the print job with added comfort grip in hands. Pairing branded power, safety of the machine is well guaranteed.
Now you may think of the affordability of this well-rounded product, worrying that the machine could be outrageously costly beyond your expectation. Quite the contrary, the SHARK printer comes with the idea to make it more accessible to ordinary users. In this case, the printer is absolutely the good value and budget choice on the market. Launching on Kickstarter as its debut, there are huge discounts up to 40% for you supporters. Click here and sign up, unlock the early bird discounts now!
Media Contact
Company Name: Shark
Contact Person: Media Relations
Email: Send Email
Phone: 15889680820
Country: United States
Website: http://www.3dpinter.com