Everyone Is Struggling To "Fit In" In This New World Created By One Virus
Platinum Singer-Songwriter/Producers 80 Empire released their latest single "Fit In" on On Friday May 22, 2020. The new single is from their forthcoming album Legacy, featuring Bishop Lamont, MD Laz, il Nano, Catherine Marie and Fred the Godson, whose tragic and sudden passing on April 23, 2020 due to COVID-19 has left his family and the Hip Hop community with a huge void. All proceeds from "Fit In" will be donated to the family of Fred the Godson.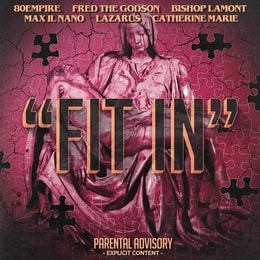 "Fit In" is the creative marriage of lyrical titans meeting a masterful and haunting melody, scored with a hard-hitting, eerie backdrop. In a world driven by the lustful need for fast food, "Fit In" stands definitively on its own while toying with the struggle of fitting in. It also deals with the reality of living in a new world that has unraveled in front of us overnight. 80 Empire, the Platinum singer-songwriter producers and co-author/performers of the track called upon some of their talented friends to jump on the song with them. "Fit In" features West Coast heavyweight Bishop Lamont, Mid-West wordsmith MD Laz, Southern rapper Max il Nano (whom the 80 Empire brothers have collaborated with before), folk singer Catherine Marie and New York Hip Hop legend Fred the Godson.
80 Empire were in the beginning stages of planning a project with Fred the Godson when his untimely passing occurred, leaving his family and the Hip Hop community to feel the immense and tragic loss. By releasing "Fit In", 80 Empire is hoping the song can serve as tribute, honoring Fred's lyrical brilliance and honoring all of the families who have experienced loss during these troubled and uncertain times.
"As parents we always want to be strong for our children. Seeing Fred lose his life and leave behind two young girls hits close to home for us. Just before he went into the hospital, we talked about our kids during this pandemic and laughed about quarantine date nights with our wives. After his unfortunate passing, we felt strongly in our hearts that any money we make from this song needs to be given to his family", said 80 Empire.
"Fit In" is available through on major digital platforms including Spotify, Apple Music, Amazon Music and more. A GoFundMe account is also being established by Fred's wife, LeeAnn Jemmott for direct donations.
Social Media:
https://www.instagram.com/80empire
https://www.instagram.com/catmarieyes
https://www.instagram.com/bishoplamont1
https://www.instagram.com/lazdetroit
https://www.instagram.com/fredthegodsonmusic
https://www.instagram.com/maxilnanoofficial
Management Contact for 80 Empire:
Wil Van Zyl
Senior Entertainment Manager
Gladiator Entertainment
647-770-9026
[email protected]
Press Contact for 80 Empire:
Alyse Feldman
On the Fly Public Relations
416-802-3592
[email protected]
Media Contact
Company Name: On the Fly Public Relations
Contact Person: Alyse Feldman
Email: [email protected]
Phone: 416-802-3592
Country: United States
Website: ontheflypr.com