Dhyan Rajamani, the talented new multi-genre artist who makes music from acoustic love songs to electric RnB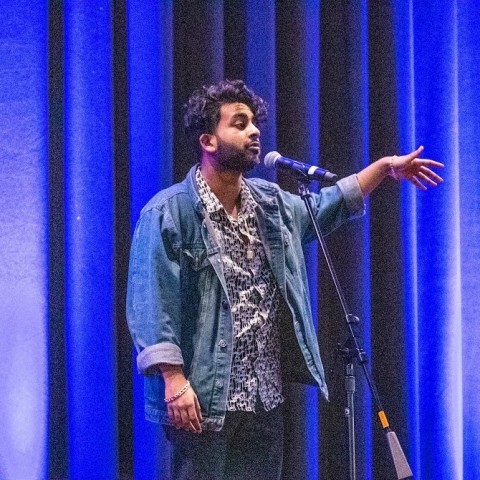 Dhyan Rajamani is a talented singer-songwriter from Maryland, who experiments with multiple genres of music, from acoustic love songs to hype Hip Hop and RnB. The 22-year-old artist from Maryland is currently following his musical passion in Pittsburgh's thriving music scene. Some of his singles and EP's include Cathy, Lady in the Shadows, Ice Cold Lemonade, Speak of the Devil, and the latest EP titled "My Hero".
His EP, "The Sun Never Says" was inspired by the poem "The Sun Never says", and describes how the sun never tells the Earth, "you owe me" and the same goes with love. It gives a message to love unconditionally, without expecting anything in return. Talking about this EP that is quite close to his heart, Dhyan states, "Do not be ashamed to love hard because love takes courage. It should never be something to be ashamed of. I think the most beautiful thing in life are the bonds we make"
Dhyan grew up in a music-loving family and learned to play various instruments like Piano, Saxophone, and Tabla. He then picked up the Ukulele and Guitar in middle school. His love for a variety of sounds and an interesting concoction of instruments can be seen in his music as well. Reminiscing his age-old love for music, Dhyan says, "In high school, whenever I would be going through a difficult time, I turned to song-writing that worked as a good outlet for my frustrations. I felt the musical instruments were able to convey my feelings that I couldn't put into words. Music was always my coping mechanism. I never felt like I was good at anything until music".
After years of making music and writing songs, Dhyan finally discovered his music style in college. Knowing that he can't be bound to one genre, Dhyan started making music in multiple genres, depending on his mood and what came from his heart which is one reason, his fans can effortlessly connect to whatever music he makes.
Dhyan Rajamani's music is available on all streaming platforms including Soundcloud, Spotify, Apple Music, and his website dhyanrajamani.com.
Media Contact
Company Name: Dhyan Rajamani Music
Contact Person: Dhyan Rajamani
Email: Send Email
Country: United States
Website: www.dhyanrajamani.com