Kumuya Poised to Revolutionize Anti-Aging Skincare with Launch of Nutrition-driven Products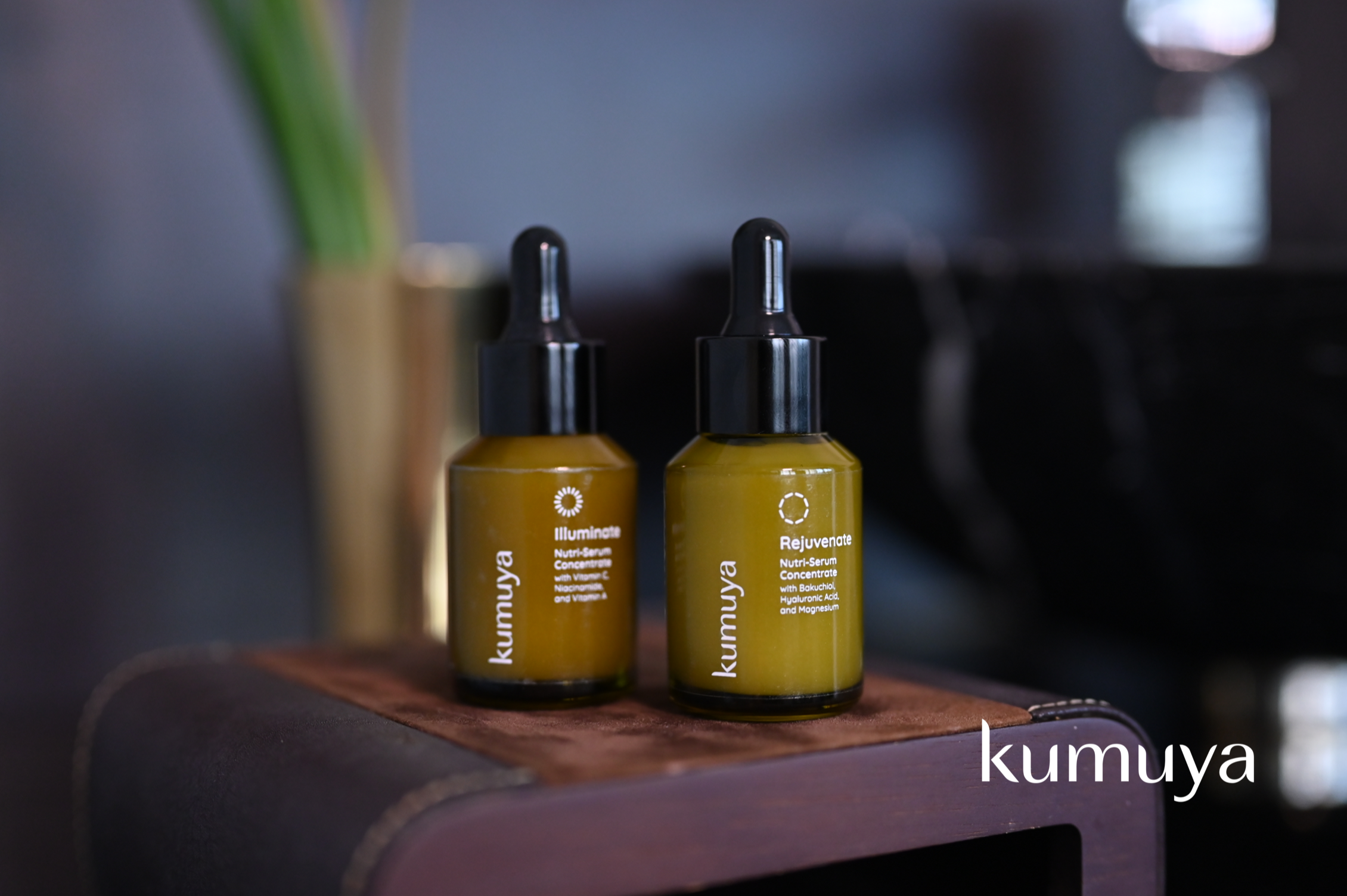 Singapore – 25th February, 2020 – Beauty brand, Kumuya, makes its worldwide debut on February 29th with a new collection of anti-aging beauty products featuring the brand's unique Nutri-Serum Concentrates. Luxurious yet absorbent, each Kumuya product is formulated with its own powerful ingredient complex of optimal actives and micronutrients that work synergistically to boost healthier skin.
According to NPD, nearly 50% of American women who use skincare reported that they were looking for natural or organic products.
More importantly, nutrition is a crucial factor in achieving healthy skin, and what we eat may not be sufficient. Also, active ingredients used in transformative skin solutions need to be formulated at optimal levels to be effective. This created an opportunity for Kumuya to redefine beauty.
"Gary and I started off in nutrient-rich and sustainable superfoods," said Terry, co-founder of Kumuya. "It's only natural that we take these insights in superfoods and apply the same approach to create the most advanced science-based skin nutrition for healthier skin."
The brand launch is accompanied by a new e-commerce website, kumuya.com, which will feature Kumuya's inaugural skincare products:
Illuminate Nutri-Serum Concentrate: A regenerative plant-derived serum with potent actives and micronutrients to reduce the appearance of pigmentation and improve skin tone – revealing a healthier glow.
Rejuvenate Nutri-Serum Concentrate: A regenerative plant-derived serum with powerful actives and micronutrients to stimulate and repair skin structure – restoring a healthier suppleness.
"Healing with the pureness of nature, the wisdom of impermanence, and the empowerment of positive beauty is the core of who we are as a company," said Gary, co-founder of Kumuya. "We are looking ahead and asking, 'What's next?' By leveraging our team's expertise, we were able to design a line of advanced anti-aging products rooted in science and made with efficacious ingredients to inspire radiance and confidence."
Kumuya is designed to harness the natural anti-aging power of revitalizing botanical oils, nutrient-rich exotic fruits, and a rejuvenating peptide. The line is clean, plant-based, vegan and cruelty-free.
Kumuya products will be available on it's own ecommerce site as well as specialty retailers and natural health professionals. For more information on Kumuya, please visit kumuya.com or connect with the brand on Facebook and Instagram.
About Kumuya
Kumuya is the art of embracing beauty at any age. A journey that mindfully synergizes plant-derived ingredients with science-backed efficacy. Building a range of clean, vegan and wholesome skincare products, so you can go from perfecting your skin to appreciating your authentic best self. After all, beauty starts with the nourishment you give yourself. That's why we've handpicked nutrient-rich ingredients, vitamins, minerals and optimal concentrations of actives for our products. While staying free of toxins, parabens, silicon, mineral oils, and preservatives. Giving you a holistic solution to beauty, skincare and nutrition that will bring out the best in you.
Media Contact
Company Name: Kumuya
Contact Person: Gary Chin
Email: Send Email
Country: Singapore
Website: www.kumuya.com