New children's book on the inspiring story of a rescue dog and its owner now on Amazon
Massachusetts Army National Guard veteran, Donald Jarvis, publishes a children's book titled "Mocha The Superhero Service Dog" on Amazon where he appreciates his service dog Mocha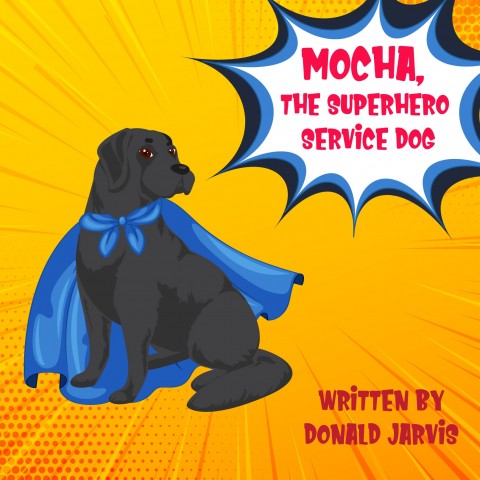 Donald Jarvis is a Newbury veteran that has dedicated his time and energy to helping struggling veterans find the resources and friendly hands they need to get back up. Jarvis is looking to give millions of people an insider look into his life with the launch of "Mocha The Superhero Service Dog," a children's book he recently released and self-published on Amazon on his service dog.
The book chronicles the story of a rescue dog, his relatively rough beginning and his fantastic impact on his owner's life. Mocha was abandoned on the streets of the big city, sick, lonely and hungry. However, the determined superhero did not let the obstacles get the better of him, staying positive, overcoming the struggles, and becoming an important part of the community.
"Mocha The Superhero Service Dog" tells the story of the dog from his perspective, starting on the street where the sick, abandoned Mocha had to dodge danger in a constant search for food. The book teaches readers the struggles of an abandoned cute dog on the streets and how he finds happiness in the end. After being taken to a shelter, he is rescued from euthanasia by a dog trainer, nursed back to health, and paired with Jarvis for his new job as a service dog.
The book will make an amazing read for children, in particular, offering a great mix of fun, adventure, and a bit of sadness to remind kids and adults alike never to give up. The book also reveals the life of dogs, veterans, and an organization working to give dogs and veterans a chance at happiness.
The 27-pager has already started to garner reviews from different buyers and readers across the globe in a relatively short while. "This is a great book! It was light enough for kids and serious enough to make us realize how important our service dogs are to our veterans. I have the privilege of volunteering at Delta Dog and helping to care for the pups. They want a good home with someone to help, it is the most rewarding thing I do! I highly recommend purchasing this book. Share it with your family and friends to have them see how wonderful a thing this is. To pair a veteran up with their dog is just the most wonderful thing for both of them," said Antoinette Longdin.
In line with his goal of helping veterans get back on their feet, Jarvis has decided to donate sales proceeds of the book to pay veterinary bills for the 8-year-old black Labrador mix.
For more information about "Mocha, The Superhero Service Dog" and to purchase a paperback copy of the book, please visit – www.jarviscript.com.
Media Contact
Company Name: JarviScript Books
Contact Person: Donald Jarvis
Email: Send Email
Phone: +1 (978) 308-9186
Country: United States
Website: www.jarviscript.com