Where Sheep May Safely Graze by Phyllis Staton Campbell – a Tale of Making the Loss of Eyesight a New Beginning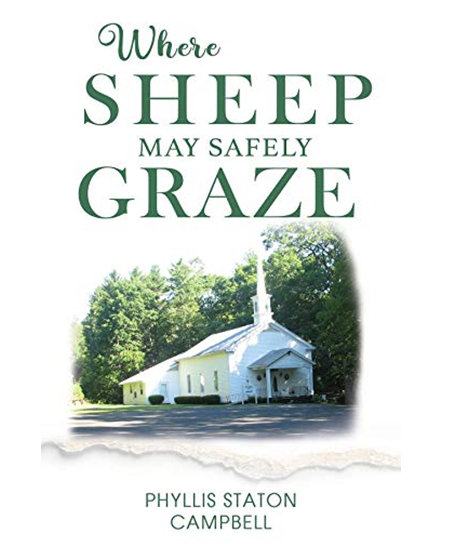 Staunton, Virginia – January 6, 2020 – "Losing eyesight doesn't mean losing vision," is the quote "Where Sheep May Safely Graze" epitomizes. Written by Phyllis Staton Campbell, the book recounts the tale of a pastor rendered blind in Iraq and how he overcomes the consequences, including losing his job. The pastor and his wife go on to make a life for themselves in the backwater, make new friends, and help animals and people alike.
The author has devoted her writing life to give the sighted world a glimpse of the world of the blind, especially those who have recently lost their sight, or who are facing blindness. Three of Phyllis Campbell's books, including "Where Sheep May Safely Graze" had been chosen by the Library of Congress (National Library Service for the Blind) as part of its Talking Book and Braille program for the blind and physically handicapped.
The creation of characters in "Where Sheep May Safely Graze," was based on the author's experience as a teacher of the blind, peer counselor, and youth transition coordinator. She says that she lives, the lives of her characters: lives of sorrow and joy; triumph and failure; hope and despair.
Phyllis considers being a Visually Impaired Person (VIP), not a disadvantage. "I feel that in some ways, my blindness has been an asset to me in my journey as a writer. Through necessity, the blind must hone the power of observation, which is invaluable for a writer. My blind characters are outstanding because they are different and that intrigues the reader," Phyllis Campbell shares.
"Where Sheep May Safely Graze" was featured in the most prominent book events in North America, BookExpo America and BookCon 2018 on May 31-Jun 3,2018 at Javits Center, NY. She is currently at work on "Goin' Home" a sequel to "Where Sheep May Safely Graze."
With her latest book, Phyllis Campbell has proven yet again that blindness is not a handicap that stops anyone from doing what the heart desire.
For more information, visit Amazon book link https://www.amazon.com/WHERE-SHEEP-MAY-SAFELY-GRAZE-ebook/dp/B07YVNC8NQ/ref=sr_1_1?keywords=9781951461171&qid=1571330300&sr=8-1
About the Author
Phyllis Staton Campbell studied creative writing at the Hadley Institute in Illinois, Creative Writing Institute in Indiana, and the University of Wisconsin, Madison. She has been writing professionally since the 1960s and has sold two titles in the mainstream print market, one of which has been published in the UK, China, and the US. She writes two bi-monthly columns for "Our Special Magazine" published in Braille by National Braille Press.
For more information:
Website: http://phyllisstatoncampbellauthor.com/
Facebook: https://www.facebook.com/pg/Phyllis-Staton-Campbell-106601920766576
Twitter: https://twitter.com/Author_Phyllis
Tumblr: https://authorphylliscampbell.tumblr.com/
About GOLDTOUCH PRESS, LLC
GOLDTOUCH PRESS, LLC is an established and experienced group of various publishing houses who teamed up to bring their clients accessible and competitive author services.
Media Contact
Company Name: GOLDTOUCH PRESS, LLC
Contact Person: Phyllis Staton Campbell
Email: Send Email
Phone: 888-404-1388
Address:420 Lexington Avenue, Suite 300
City: New York
State: NY 10170
Country: United States
Website: https://www.goldtouchpress.com/