G-Squared Events Presents "Valentine's with Kenny "Babyface" Edmonds, Patti LaBelle, and Tamia" on Sunday, February 16, 2020, at the Smart Financial Centre in Sugar Land, Texas

HOUSTON, TEXAS – Jan 2nd, 2020 – G-Squared Events is excited to announce their upcoming event entitled "Valentine's with Patti LaBelle, Kenny "Babyface" Edmonds, and Tamia." This night of soulful music will take place on Valentine's weekend, February 16, 2020, at the Smart Financial Centre in Sugar Land, Texas. Doors are scheduled to open at 6:00PM and the event will take place at 7:00PM. Pre-sale begins Friday, November 15, 2019, at 10AM on GSquaredEvents.com and at the Smart Financial Centre Box Office. Tickets will go on sale to the general public starting Monday, November 18, 2019, at 10 AM. Ticket prices for the event range from $49.50 – $145.00.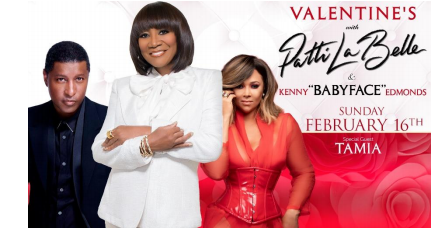 Grammy® Award-winning singer, Patti LaBelle, is an unparalleled force in the entertainment industry. LaBelle's name has become synonymous with grace, style, and class. Her effortless ability to belt out classic rhythm and blues renditions, pop standards, and spiritual sonnets has created the unique platform of versatility for which she is celebrated. The Philadelphia born entertainer created her first hit in 1962 as the lead singer of The Bluebells, before going on to receive worldwide acclaim with the trailblazing, genre-bending all-female trio, LaBelle. After going solo in 1970, LaBelle has created timeless songs, fortifying herself as an icon in the music industry.
In addition to her prestigious music career, LaBelle has written five best-selling books, created a successful line of food products, and has starred in her own highly rated cooking specials on the Cooking Channel and Food Network. Her impressive and diverse achievements as an entertainer, businesswoman, and author has garnered her numerous honors including Grammy® Awards, American Music Awards, NAACP Image Awards, New York Times bestseller, and the 2016 Marian Anderson Award.
Kenny "Babyface" Edmonds' multi-faceted pop/urban career includes the consecutive multi-platinum landmark albums "Tender Lover, For the Cool in You" (including signature hits "Never Keeping Secrets" and "When Can I See You") and "The Day" ("Every Time I Close My Eyes").
As co-founder with L.A. Reid of LaFace Records in 1989, Babyface nurtured the careers of such stars as TLC, OutKast, Usher and Toni Braxton. An 11-time Grammy Award winner, Babyface most recently released "Return of the Tender Lover" in December 2015, his first solo album in seven years. This latest project introduces a freer, less-structured Babyface putting his stamp on a contemporary sound he describes as "unapologetic R&B." This album follows the critical and commercial response to his and Toni Braxton's 2014 Grammy-winning album "Love, Marriage & Divorce."
For six-time Grammy nominated singer-songwriter, Tamia, "Music is just a part of me and everything I do, every step that I take." The Canadian-born vocal powerhouse has lived by that mantra for a career spanning over two decades and solidifying her as one of the most recognizable voices in R&B music. Tamia's voice has become synonymous with the new definition of soul and spawned hits like "You Put A Move On My Heart," "Stranger in My House," "Officially Missing You," "So Into You" (later re-recorded with Fabolous in 2003), and the 2012 hit single "Beautiful Surprise."
After signing with Def Jam Recordings in the summer of 2014, Tamia immediately began working on her sixth studio album collaborating with an impressive list of hitmakers. The sultry vocal stylings sift perfectly into the R&B melodies of production offered by some of the most notable producers in the music industry. Tamia's sixth studio project, Love Life (2015) is her highest charting album to date, reaching #1 on the Billboard R&B chart.
About G-Squared Events
Based in Houston, Texas, G-Squared Events produces high-quality live entertainment experiences with some of the world's biggest performers including Charlie Wilson, B2K, Tyrese, Steve Harvey, Keith Sweat, and Brian McKnight. For over 20 years, G-Squared Events has leveraged data-driven insights with our event production expertise to deliver world-class events while earning enduring loyalty from our patrons, artists, and venue partners. G-Squared Events was recently recognized as one of the top independent promoters, at No. 30 on Pollstar's Q2 '19 Worldwide Top 100 Promoters chart.
To learn more, visit www.GSquaredEvents.com
Media Contact
Company Name: Tara Thomas Agency
Contact Person: Tara Thomas
Email: Send Email
Phone: 812-558-8882
Country: United States
Website: https://www.tarathomasagency.com/