Haunted Castle by Donna Vamplew – a Family Saga, Love Story and Great Mystery Intertwined in a Novel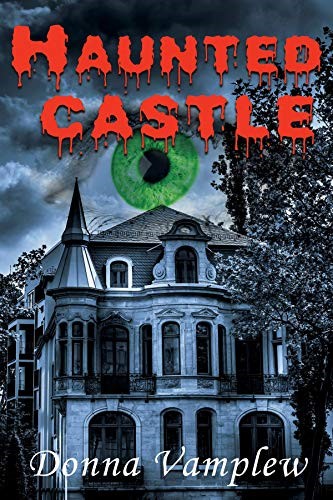 Ontario, Canada – November 12, 2019 – "Haunted Castle" is a suspense thriller book written by Donna Vamplew. The story follows the lives of the Clancy family that's steeped in history and the legacy of a rock band that goes by the name Haunted Castle. The book's plot is an amalgamation of everyone's pasts with the whole ball of wax involving family bonds, love, music, and trust.
Donna Vamplew has written "Haunted Castle" to appeal to women from 25 to 95 years-of-age. The book is penned to span across Boston, and Los Angeles, as the history of the Clancy family unravels. Haunted Castle's growth is narrated by two members Jenna and Peter to six members. The novel follows their rise to fame from London to present-day Los Angeles. "This thrilling mystery will take the reader through the twists and turns as the story unfolds," Donna Vamplew says about "Haunted Castle." She adds that authors like James Patterson, David Baldacci, Danielle Steele, Vince Flynn, the Bronte Sisters, Shakespeare, Tom Clancy, Mario Puzo influence her greatly.
When asked how "Haunted Castle" stands out from other novels available in the current market, Donna Vamplew explained that the stories are developed through dialogue and a sequence of events, employing engaging storytelling that leaves readers wanting for more. "The Clancy family saga comes to life through the discovery of relationships. Emotions, thoughts, and feelings draw the reader into the Clancy/Haunted Castle world. There are different layers to the mystery of the novel as it progresses to the climax when finally, the mystery is solved. However, as the mystery is solved, another chronicle begins!" she adds.
Donna Vamplew has been a teacher and a coach for more than three decades. With "Haunted Castle," she puts her writing talent to the fore as well as offering her seamless story-telling skills on a silver platter.
For more information, visit Amazon book link https://www.amazon.com/Haunted-Castle-Donna-Vamplew-ebook/dp/B07WBVGMJ8/ref=sr_1_1?keywords=9781733336772&qid=1571846702&s=books&sr=1-1
About the author
Donna Vamplew was born in Sydney, Nova Scotia, in 1951. She lived in Louisdale, Nova Scotia, and moved to Toronto and then back and forth until her twenties. She attended St. Francis Xavier University, Queens University and the University of Toronto. And, then she taught at Notre Dame High School in Toronto for 25 years and coached many sports, preferring Basketball and Badminton. She's a retiree now, but she works as a part-time guidance counselor for Continuing Education in Durham, Ontario, and loving it! She spends winters now in Hollywood, Florida. She has been married for 40 years to her husband, Patrick an internationally ranked marksman.
Website: http://donnavamplewauthor.com
Social Media Accounts:
Facebook: https://www.facebook.com/authordvamplew/
Twitter: https://twitter.com/authordvamplew
Tumblr: https://authordvamplew.tumblr.com
About Toplink Publishing
Toplink Publishing offers highly scalable platforms that are growing quickly, positioned to become the global leader in accessible and strategic publishing and marketing solutions. For new book/books to publish or publicize one's published work, contact by calling 1-888-375-9818.
Media Contact
Company Name: Toplink Publishing
Contact Person: Donna Vamplew
Email: Send Email
Phone: 888-375-9818
City: Kelly
State: North Carolina
Country: United States
Website: https://www.toplinkpublishing.com/