PubHTML5 Announces the Launch of a Flipping Book Publishing Platform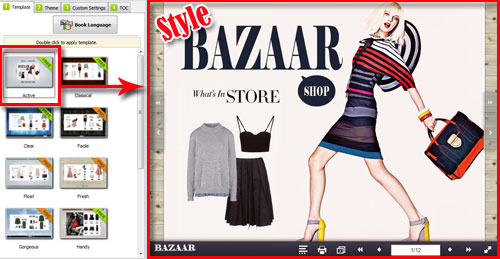 PubHTML5, a leading provider of digital publishing solutions, announced the launch of a flipping book publishing platform that allows users to create flipping books online.
PubHTML5, a leading provider of digital publishing solutions, recently unveiled a flipping book publishing platform that provides a complete digital publishing solution for the businesses, publishing houses, NGOs and individuals. With the launch of this platform, users can create, publish and share their flipping books online without any difficulty.
"Gone are the days of printed materials. There is no denying that digital publication is the call of the day because it makes advertising much easier. It lets one go green and reach a much wider audience. Among all the modes of digital publishing, the flipping book is the most eye-catching. That is why we developed this platform for creating flipping books," said Anna Lee, the Chief Designer of PubHTML5.
PubHTML5 provides a free version and four paid versions of flipping book publishing platform. The free version provides users with all the basic features, it will contain the PubHTML5 watermark on it. However, the use of advanced features for adding audio and videos will not be there.
Using this platform, users can convert their PDF files or images into flipping books without any hassle. The flipping books come with an engaging page turning effect that mimics reading a printed publication and can impress customers beyond expectation. Users can add audio, videos, and animations to enrich their flipping books. The platform offers a secure and reliable cloud service, enabling users to publish their flipping books to the cloud. It also allow users to share their flipping books through social media channels, such as Facebook, Twitter, G+ and so on.
Think about anything from business & services, design & photography, real estate, medical, computer & internet, fashion & beauty, cars & motorcycles, food & restaurant, sports, outdoors & travel, electronic, home & family, and art & culture, one can create a realistic flipping book using the PubHTML5 platform. This will render a unique customer interface. The platform provides great readability and accessibility. The flipping books created with this platform are compatible with all the devices and browsers, making it possible for readers to read the flipping books using any device and any browser.
About PubHTML5
Headquartered in Hong Kong, PubHTML5 is a software development company that develops digital publishing software for business communities, publishers, NGOs, and individuals. For more information, please visit http://pubhtml5.com/
Media Contact
Company Name: PUB HTML5
Contact Person: Anna R. Jarvis
Email: Send Email
Phone: +86 020-61972665
Country: China
Website: http://pubhtml5.com/