GoFundMe Started to Provide Christmas Gifts for Underprivileged Children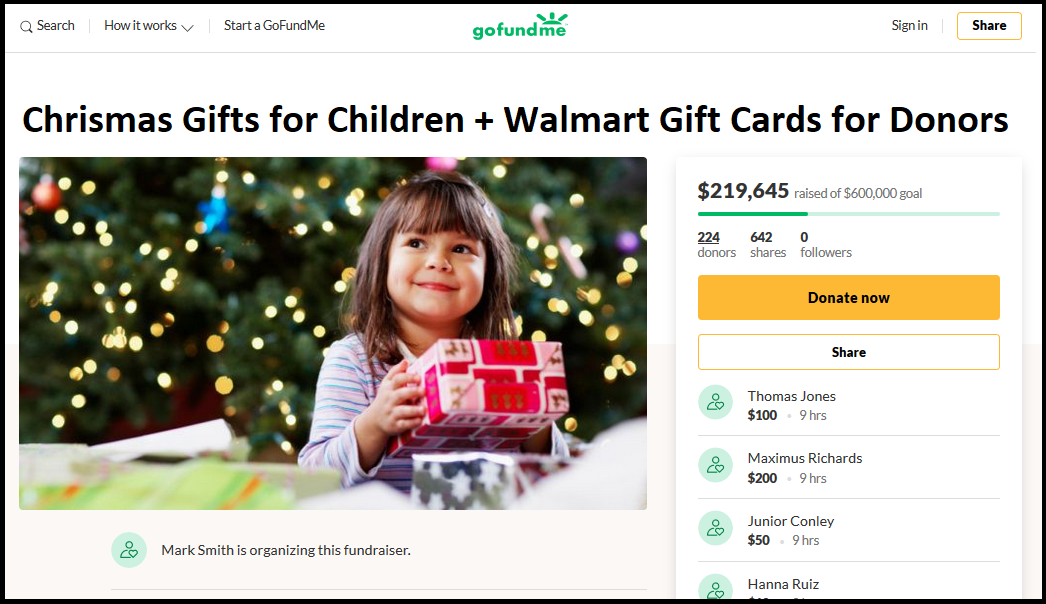 A group of Subway restaurant owners are coming together once again to raise money for underprivileged children who more than likely will receive nothing for Christmas. The group of restaurant owners created a GoFundMe campaign to raise money for the children. They partner with nonprofits such as the Salvation Army and United Way to identify children in need.
Last year the group started a GoFundMe fundraiser and it was an astounding success. They raised $500,000 to provide underprivileged children with Christmas gifts. "I couldn't believe how fast the donations poured in," said Mark Smith, a friend of one of the Subway restaurant owners. Smith helped organize the GoFundMe fundraiser last year and he is helping again this year.
One reason for the fundraiser's massive success is because the group of Subway owners give away $500 Walmart gift cards to anyone who donates $200 or more. Who doesn't want a $500 Walmart gift card for only $200? If you donate $200 to their fundraiser, you are basically buying a $500 Walmart gift card at a phenomenal discount. Not a bad deal. Makes you wonder if people truly want to support the cause, or if they simply want a steep discount on a Walmart gift card?
Either way, it has been successful for the group. Last year the group mailed out 480 free Walmart gift cards to donors valued at $500 each.
The Subway restaurant owners receive the gift cards directly from Walmart at no cost. Throughout the year the group receives shipments of gift cards from Walmart which they distribute to food banks and shelters nationwide to purchase food and supplies. Therefore it doesn't cost the group anything to give away the $500 Walmart gift cards.
At the current moment of this article, the group's current fundraiser has already raised over $250,000. Their goal is to raise $750,000. The group of business owners will certainly reach their fundraising goal, considering last year they raised $500,000 in less than 30 days.
Click here to visit their GoFundMe fundraiser.
The group also raised money to provide winter jackets to 250 Parkview Elementary students in Salt Lake City, Utah. With temperatures dropping below 40 degrees this week, the Subway restaurant owners teamed up with Operation Warm, a nonprofit organization that manufactures coats for children in need, to provide winter jackets to students from pre-kindergarten to third grade. Each coat came equipped with a light to keep students visible to cars.
Throughout the morning, students, joined by a volunteer, flocked to the school's gymnasium to choose a winter coat that was their size and favorite color. For 7-year-old Emma Huffman, receiving a coat was a surprise. She chose pink.
"It was very soft and it was very warm. It was like the best coat I ever had," she said.
The winter coats were made by Operation Warm and bought by the group of business owners (with funds from the fundraiser), according to Grace Sica, vice president of corporate partnerships at Operation Warm.
Media Contact
Company Name: Operation Warm | GoFundMe Campaign for Underprivileged Children
Contact Person: Mark Smith
Email: [email protected]
Phone: (336) 558-6451
Country: United States
Website: https://www.gofundme.com/f/gifts-for-children-2019