Field Device Management Market Size is Estimated to Generate Revenue $1,700.1 Million By 2026 | Polaris Market Research
Polaris Market Research offers a latest report on "Global Field Device Management (FDM) Market" delivering key insights and providing a competitive advantage to clients through a detailed report. The report contains more than 128 pages which exhibit current market insights, and future opportunities, revenue growth, pricing and profitability.
The global Field Device Management (FDM) Market size is expected to reach USD 1,700.1 Million by 2026 according to a new study by Polaris Market Research. The report "Field Device Management (FDM) Market Share, Size, Trends, Industry Analysis Report By Component (Hardware, Software); By Deployment (Cloud, On-premises); By Communication Protocol; By Application (Oil & Gas, Energy & Power, Chemicals, Pharmaceuticals, Metals & Mining, Water & Wastewater, Automotive, Manufacturing); By Regions, Segment Forecast, 2019 – 2026" gives a detailed insight into current market dynamics and provides analysis on future market growth.
Due to developments in hardware technologies, demand is increasing in the global device management market. In terms of market growth, the need to manage all peripheral devices within a company has played a vital role. Timely improvements in device configuration are a major requirement in all major industries. In addition, industrial units and plants require a high degree of flexibility and adaptation within their devices. Therefore, the global industry for FDM in the following years is projected to generate huge revenues.
Request A Sample Report At: https://www.polarismarketresearch.com/industry-analysis/field-device-management-market/request-for-sample
Some of the key players in the market are : Schneider Electric SE, Honeywell International Inc., Siemens AG, ABB Group, Emerson, Rockwell Automation, Mitsubishi Electric, Hach, Omron Corporation, Metso Oyj, FANUC Corporation, Yokogawa, Hamilton Company, Valmet Oyj, Phoenix Contact, Endress+Hauser, Festo, Azbil Corporation, Weidmüller and Omega Engineering among others.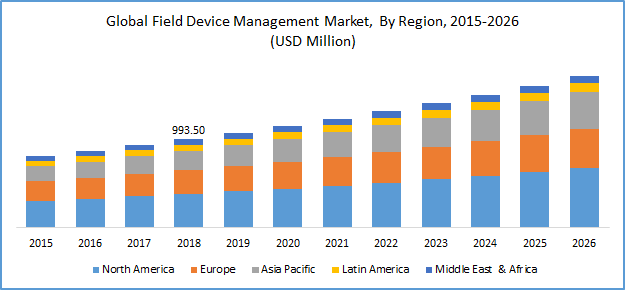 In 2018, the global market was dominated by FDM software, which has the highest share and will be expected to increase at a significant growth rate during the forecast period. The growth of the segment depends primarily on the increasing use in different industries of automation technology, Industry 4.0, and the IoT. Software for field device management can be used to carry out preventive maintenance and management tasks. The tools help the classification and management of collected information such as inspection notes, inspection timetables and system configuration information.
In addition, software solutions for field device management provide remote access to smart devices and machine data that can be used to prevent predictive maintenance. These benefits help to make high use of the software for managing filed devices and thus promote market growth.
Browse More Insight Of Field Device Management Market Research Report Enabled with Respective Tables and Figures at https://www.polarismarketresearch.com/industry-analysis/field-device-management-market
North America has the largest market share of nearly 35 per cent of the overall worldwide revenue in the field of device management. In the high-market size of field device management systems in this area, North America, in particular, plays a key role. With a technological boom in the industrial environment, the adoption of field device management systems is growing fast in the United States. In addition, the majority of companies in this market operate in the United States and have a large client base in local and international markets, which contributes in large part to the existing volume of the market in this regional segment.
The demand for FDM solutions for the nonstop monitoring of processes and machinery of these industries is driven by development in industries such as power, electricity, oil & gas and chemical products in the Asia-pacific region. Furthermore, the growth rates in this region of field device management systems also increase the expansion of international players.
Polaris Market research has segmented the field device management market report on the basis of offering, deployment, industry and region
Field Device Management Offering Type Outlook (Revenue, USD Million, 2015 – 2026)
Hardware
Software
Field Device Management Deployment Type Outlook (Revenue, USD Million, 2015 – 2026)
Cloud
On Premises
Field Device Management Communication Protocol Outlook (Revenue, USD Million, 2015 – 2026)
FOUNDATION Fieldbus
HART
PROFIBUS
PROFINET
Wireless Networking
Modbus
Others
Field Device Management Application Outlook (Revenue, USD Million, 2015 – 2026)
Oil & Gas
Energy & Power
Chemicals
Pharmaceuticals
Metals & Mining
Water & Wastewater
Automotive
Manufacturing
Field Device Management Regional Outlook (Revenue, USD Million, 2015 – 2026)
North America (U.S., Canada)
Europe (UK, Germany, France, Italy, Russia)
Asia Pacific (India, Japan, China, South Korea)
Latin America (Brazil, Mexico, Colombia)
Middle East & Africa (Saudi Arabia, South Africa, UAE, Israel)
Have Any Query Or Specific Requirement? Feel Free To Ask Our Industry Experts At: https://www.polarismarketresearch.com/industry-analysis/field-device-management-market/speak-to-analyst
About Polaris Market Research
Polaris Market Research is a global market research and consulting company. The company specializes in providing exceptional market intelligence and in-depth business research services for our clientele spread across different enterprises. We at Polaris are obliged to serve our diverse customer base present across the industries of healthcare, technology, semi-conductors and chemicals among various other industries present around the world. We strive to provide our customers with updated information on innovative technologies, high growth markets, emerging business environments and latest business-centric applications, thereby helping them always to make informed decisions and leverage new opportunities. Adept with a highly competent, experienced and extremely qualified team of experts comprising SMEs, analysts and consultants, we at Polaris endeavour to deliver value-added business solutions to our customers.
Media Contact
Company Name: Polaris Market Research and Consulting
Contact Person: Mr.Likhil
Email: Send Email
Phone: +1-646-568-9980
Address:30 Wall Street 8th Floor
City: New York
State: New York 10005
Country: United States
Website: https://www.polarismarketresearch.com/industry-analysis/field-device-management-market